Group accuses FG of witch-hunting agitators while Nigeria collapses
Members of MASSOB have accused the President Buhari led administration of witch-hunting Biafra agitators at the expense of the country.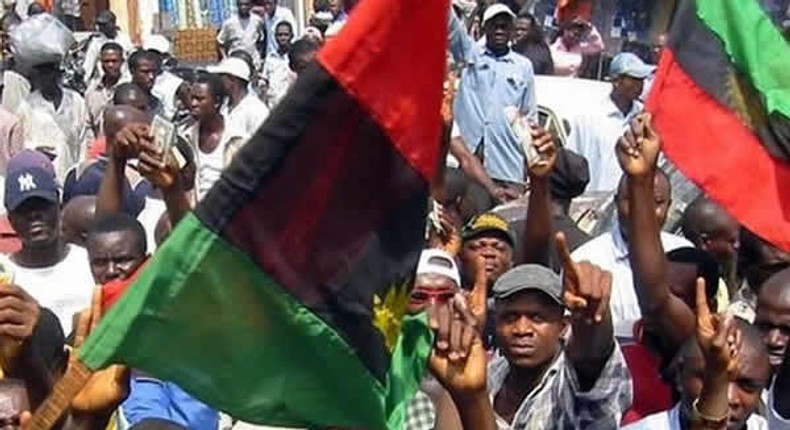 Reacting to President Muhammadu Buhari's recent statement during his meeting with Niger Delta elders, the group says the President is clueless and directionless.
Recently, President Buhari had said that whoever wants to leave Nigeria can do so if they have another country to call their own.
In a recent statement by the group, the group wondered why the FG is witch-hunting and chasing down Biafrans while the country is collapsing.
"The federal government is busy, chasing, witch-hunting and killing Biafrans and agitators, while the country is collapsing, and will soon go into extinction because of clueless and directionless leadership," Uchenna Madu, leader of MASSOB said.
Continuing, Madu said: "We reiterate our earlier position that those who wish to play pharaoh against the people of Biafra, will certainly experience the consequences of the Egyptian Pharaoh.
"President Buhari's statement that anyone, who cherished another country can leave Nigeria is not something to be cheerful about, celebrated and in any way heartwarming.
"MASSOB views it as part of Pharaoh's subtle way of mocking the Hebrews-Biafra. The people of Biafra should not celebrate or rejoice over that cunning and mocking assertion," he said.
Threatening the extinction of the country, Madu also said, "The time of God's calamitous earthquake that will delete the name of the country from the world map, government and other functions is very fast approaching.
"MASSOB and other pro-Biafran groups will continue to remain non-violent and focused. We will continue to be loyal to Dim Chukwuemeka Odumegwu Ojukwu's principles, vision and legacies; and continue to revive and refresh the consciousness of Ojukwuism in the minds of every Biafran," he said.
In conclusion, Madu said all pro-Biafran groups will remain non-violent, and continue to uphold the values of late Chukwuemeka Ojukwu.
JOIN OUR PULSE COMMUNITY!
Recommended articles
Chinese President promises Tinubu increased economic cooperation with Nigeria
Tinubu says Nigeria open to doing business with any country
Wike can be expelled if due process is followed - Court tells PDP
NSCDC arrests 3 petrol 'black marketers', impounds 4 vehicles in Niger
Insecurity, unemployment responsible for japa syndrome — Dabiri-Erewa
Uzodinma succeeds El-Rufai as chairman of APC governors forum
North East coalition endorses APC's choice Abbas for NASS speakership
Court remands 2 construction workers for allegedly breaking govt seal
Fire at Lagos hospital, firefighters respond promptly