Steve Ayorinde speaks on Ambode vs Fashola, Lagos traffic, security, others [VIDEO]
The Lagos State Commissioner for Information and Strategy, Steve Ayorinde recently appeared on Frankly Speaking With Jola Sotubo to speak on matters arising in the state.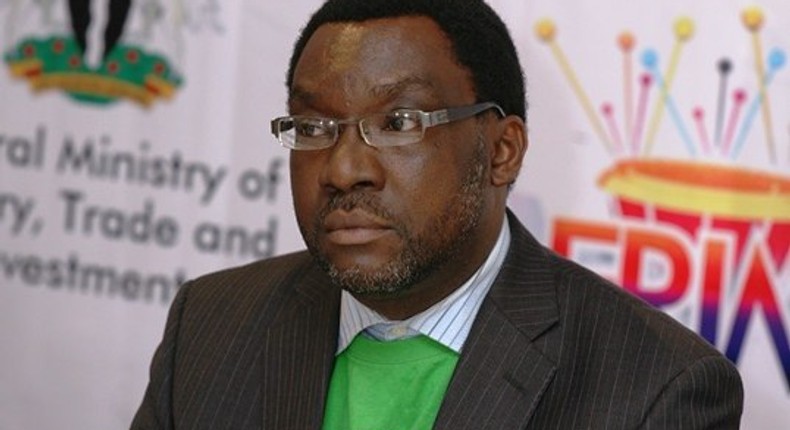 Mr Ayorinde addressed the constant comparison between Governor Akinwunmi Ambode and his predecessor, Babatunde Fashola and Ambode's plans to address the security and traffic issues in Lagos.
On the Ambode/Fashola comparison, he said:
"You can't compare an eight-month old administration with an eight-year old administration. And you will recall that when His Excellency, Governor Babatunde Fashola came, the same thing was said at the initial period that "Will he be like Asiwaju Bola Ahmed Tinubu" his own predecessor."
"In one year… we'll shake off all these comparisons that are needless because what the governor is concerned about is to continue with the good work that his predecessor started and to focus on what Lagosians want and people are beginning to see."
"…He's continuing what governor Fashola left in terms of security of lives and property, he has taken it further… that's an eloquent testimony that this is continuity with improvement."
"…His [Ambode's] own style and his own personality will be obvious to Lagosians… and without a doubt, part of what he is elected to do is actually to surpass his predecessor so that Lagosians can benefit more."
On the notion that Ambode is being controlled by All Progressives Congress (APC) National Leader, Bola Tinubu, he said:
"It is pointless entertaining a few misguided commentaries… talk is cheap. People will make comments anyway."
"I think we shouldn't get caught up in the cheap descriptions of a few people who just enjoy distracting people. The governor is focused and he knows where he's going…"
On Ambode's plans to ease traffic in the state, he said:
"We're easing the situation already. You'll see that the inner roads are a major problem, the governor, working in sync with the local government executive secretaries, has commissioned 114 inner roads, 2 per LCDA, which means that by the middle of this year, 114 roads will have been completed, that will ease traffic because the more roads you fix, the smoother driving will become."
"In addition to that, in eight months of our administration, we have fixed, rehabilitated or repaired a total of 340 roads all across Lagos. The more roads you fix, the better for traffic."
"We have fortified LASTMA… not only that, we have also brought in mobile courts and so far, we have tried more than 600 people… That has improved traffic a lot."
"Traffic won't disappear completely, but we can manage it better, particularly with the announcement by the governor that by December, the light rail, the Blue Line, will be ready, we're doing a lot of investment on the waterways, we're trying to put a lot more operators there, do a lot more regulation, invest in channelization of the waterways."
"By the time we're able to effectively take a lot of people off the roads, let them use the train services, let them use the waterways, we know that we would have gotten somewhere."
On security in the state, he said:
We're happy that since November, when we made that huge donation of assets to the police and the RRS, between that time and early this month [February], when we had our second town hall meeting, we know for a fact and we did announce it that the crime rate in Lagos has reduced by 65 per cent."
"That's remarkable, but that's not where we're going. We'll like to improve a lot more on that. It has gone down because criminals and gangs and touts now appreciate the fact that Lagos has the capacity to go after them."
On the Ambode administration's plans to use social media in governance, he said:
"We're already harnessing the power of social media. For me as a journalist and a media person, I believe the power actually lies in technology. Therefore, in communicating the programmes of Lagos State, in assisting in the management of the information and communications for Lagos State, and by extension for the governor, we can't do this without the internet, without social media."
"We're aware of the fact that 65 percent of the people that we'll be speaking to, at any point in time, are youthful, and they get their information first and foremost from social media, so we can't neglect it."
"What we have done, is to upgrade the ICT/social media unit of the Ministry of Information and Strategy to a full department with a Director and with the full complement of staff and tools to be able to run an effective communications strategy for Lagos State using, relying heavily on social media."
Watch the video of the full interview below:
JOIN OUR PULSE COMMUNITY!
Recommended articles
UPDATE: 22 rescued, 2 dead in Gwarinpa building collapse
Customs seize fake $6m, arrest 4 along Seme border
Southern, Middle Belt Leaders endorse Peter Obi for president
TAFTA: Providing world-class creative education to thousands of Nigerian youth
How fragile border fuels terrorism, economic sabotage - Buhari
Omo-Agege will end farmers, herder clashes in Delta – APC Chieftain
PoS operators increase charges to 10% as Naira scarcity persists
FG to launch 24/7 citizen's desk for diaspora response - Minister
Buhari congratulates Arise News on 10th anniversary