Lawyer accuses APC of denying campaign promise
Falana alleged that the ruling party promised to restructure Nigeria when they were campaigning in 2015.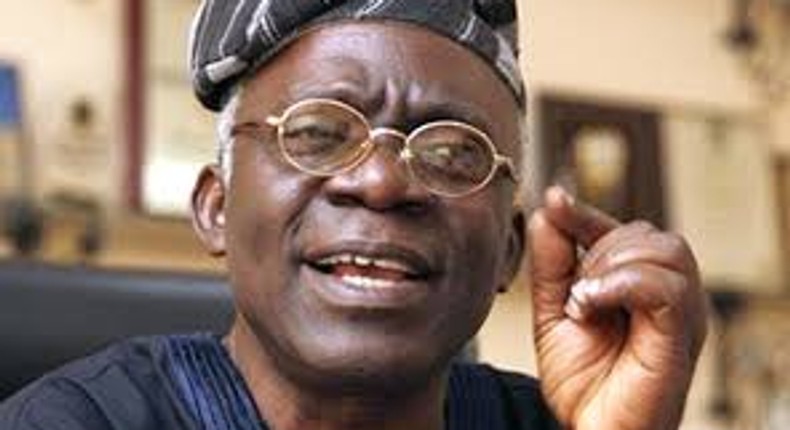 Senior Advocate of Nigeria (SAN), Femi Falana has accused the All Progressives Congress (APC) of denying its campaign promise.
The human rights lawyer said this while speaking at an event organised by the Ondo state government to mark the June 12 celebration.
This is coming after the Minister of Information and Culture, Lai Mohammed said restructuring is not in President Buhari's agenda.
Speaking further, Falana said Nigeria will be restructured whether APC like it or not.
He also condemned the call by some youths in the North for Igbos to leave the region in 90 days.
In his remarks, Governor Oluwarotimi Akeredolu said "We should pause to ponder on the journey so far. We should also leave the venue, rededicated to the cause of the total emancipation of the downtrodden from the shackles of poverty and the attendant gross privation.
"This has become more exigent now that the country faces serious identity crisis. Must we also remind the simpletons who issued empty threats that nobody will be evicted from any part of the country?
"Is it not shameful that while we all condemn xenophobic attacks in South Africa and other places, we are unable to live with one another?
"In whose interest are the exigent calls for political restructuring without considering the economic potentials and inputs of virtually all regions that have been rendered parasitic and unproductive by an avaricious and untoward generation?
"What exactly, other than parochialism, propelled by greed, that is pushing certain characters to overheat the polity?
"How educated are we when we exhibit abysmal ignorance, confusing immediate location as evidence of origin?"
Femi Falana also said June 12 should not be seen as a Yoruba struggle but a national movement that gave birth to the 18 years of uninterrupted democratic in Nigeria.
JOIN OUR PULSE COMMUNITY!
Recommended articles
Strike: FG heeds TUC's demands, set up committee to review minimum wage
Group urges Nigerians to exercise patience with Tinubu
I did not assault my wife – Ondo Deputy Governor
Makinde seeks review of Supreme Court's judgment to pay ₦3.4bn debt to LGs
South-East group congratulates Gbajabiamila, Akume on appointments
30 killed as armed men invade Sokoto community
NDLEA destroys 3 tons of skunk in Edo forest, seizes 76.9kg Canadian Loud
Attack on Yahaya Bello's convoy political, Natasha alleges
NDLEA recovers 390kg illicit drugs in 4 states in 5 days