Will Trump treat Nigeria better than Obama did?
Obama visited Africa five times but Nigeria didn't make it to the White House itinerary under America's first black President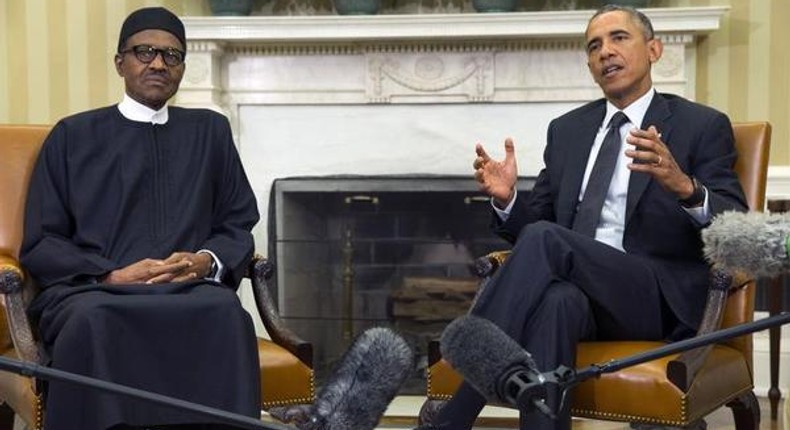 Donald Trumps phone call to President Muhammadu Buhari may just be a sign of
The problem with 'The Donald' is that he's unpredictable and spontaneous.
So, we have to read as much meaning into his conversation with Buhari as we would the rising and setting of the sun.
But he could have snubbed Nigeria altogether and heavens won't fall. It was within his rights not to ring the leader of Africa's most populous country.
Making that phone call to the Presidents of South Africa and Nigeria may signpost better bilateral relations between Nigeria and the United States than former U.S President Barack Obama offered.
And Obama was good for Africa in more ways than one.
America's first black President hosted the first U.S-Africa leadership summit which was attended by 37 heads of state, launched "Power Africa" which was aimed at lighting up a continent plagued with electricity woes and launched  "Trade Africa"-- a programme set up to improve trade relations between the United States and Africa.
But Obama didn't deem it necessary to visit Nigeria as he made stops across the continent in all of eight years.
The former U.S President visited Africa five times but Nigeria didn't make it to the White House itinerary under Obama.
It was a snub felt round the country.
Johnnie Carson who served as Assistant Secretary of State for African Affairs in the first Obama administration, noted that Obama not visiting Nigeria for eight years was an opportunity missed.
According to Carson: "President Obama has traveled to Africa five times during his presidency – but he has not visited Nigeria, the continent's economic, political, communications and petroleum giant, and its most important state. It is the continent's largest economy – almost twice the size of South Africa's and a third larger than that of Egypt.
"It is also the continent's most populous state, with 180 million people, its largest Muslim country, and its largest democracy.
"The President has visited every major country on the continent except Nigeria, and it would be a mistake for him to leave the White House without a stop in Lagos or Abuja.
"Some have suggested that security may be a concern because of but if the president can travel safely to wherehas carried out high profile attacks in the center of the city, he should be able to travel safely to Abuja or Lagos.
"He is bound to make one more trip to Europe, and a stop in Nigeria – similar to his 2009 visit to Ghana – would not be a major diversion".
Under Obama, the United States also cited poor human rights record and corruption for why it wasn't throwing its full weight behind Nigeria's efforts to root out terrorist sect Boko Haram.
At some point, the U.S refused to sell badly needed weapons to Nigeria as the West African country battled an insurgency that has claimed close to 30,000 lives and displaced millions since 2009.
But if Trump is to be believed, all of that may just be about to change.
According to the Nigerian Presidency's version of what was discussed in that famous phone conversation between Trump and Buhari, "President Trump assured the Nigerian President of US readiness to cut a new deal in helping Nigeria in terms of military weapons to combat terrorism".
Will Trump be better for Nigeria than Obama was?
Given his love for "alternative facts" and "fake news", it would be wiser not to read too much into what Trump does or doesn't do.
Trump doesn't strike one as a character to be relied upon in the long term. A man with a disposition for going off script, shouldn't be trusted to save the world.
However, it's still early days in the Trump administration. At this point, all bets should be off.
But calling the Nigerian leader during his first few weeks on the job and inviting Buhari over to the White House, may just suggest that Nigeria can look forward to better days and better bilateral relations with Trump as America's number one citizen.
This is Trump we are talking about here.
JOIN OUR PULSE COMMUNITY!
Recommended articles
Troops bomb Boko Haram Commander, 27 others in Borno as bandits attack
2023: Nigeria's Presidency not about one religion – CAN
Our votes are against those who underrate Rivers state – Wike subs Atiku
Dariye, Nyame regain freedom, 4 months after Buhari's pardon
BREAKING: WAEC releases 2022 WASSCE results
You are a failure made by powerful politicians – Jandor replies Sanwo-Olu
El-Rufai and Atiku's spokesman in a mild political tweet-fight
Certificate Forgery Suit: APC to be served as Bola Tinubu remains unreachable
Court to hear 'certificate forgery' suit against Tinubu next month