Commonwealth doctors condemn President's trip abroad
The comment was made by the group's Vice President, Dr Osahon Enabulele on Monday, June 6, 2016.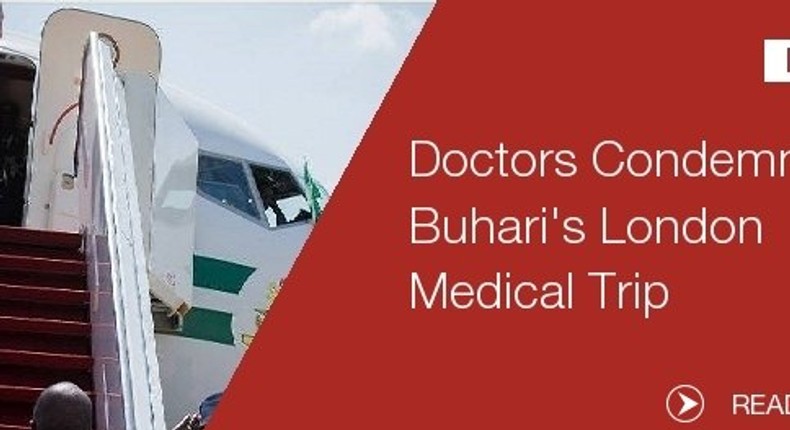 The Commonwealth Medical Association has criticized
The comment was made by the group's Vice President, Dr Osahon Enabulele on Monday, June 6, 2016, Vanguard reports.
"I am very constrained to state that this foreign medical trip flies in the face of the Federal Government's earlier declaration of her resolve to halt the embarrassing phenomenon of outward medical tourism, which as at the end of the year 2013 had led to a humongous capital flight of about $1billion dollars, particularly from expenses incurred by political and public office holders and their accompanying aides, whose foreign medical trips most of which are unnecessary, were financed with tax payers' resources," he said.
"Mr. President should make a clear public pronouncement on his resolve to show leadership by example with respect to the utilization of the medical expertise and facilities that abound in Nigeria by him and other members of the Federal Executive Council, particularly in concrete expression of section 46 of the National Health Act which seeks to address the abuse of tax payers' resources through frivolous foreign medical travels embarked upon by political and public office holders.
"It is on record that most public and political office holders who seek foreign medical care abroad are handled by Nigerian trained doctors in foreign lands particularly in the United Kingdom which has over 3000 Nigerian trained medical doctors, United States of America with over 5000 Nigerian trained medical doctors, amongst other foreign countries, most of whom left the shores of Nigeria on account of government's perennial failure to address the various push and pull factors which have consistently driven this yearly brain drain phenomenon in Nigeria.
"Available records show that last year alone, 637 medical doctors emigrated due largely to poor working conditions and health facilities, insecurity, unpredictable and poor funding of Residency Training Programme, uncompetitive wages and job dissatisfaction.
"Without prejudice to the expert recommendation of President's Personal Physician and the ENT specialist said to have examined and treated him in Abuja, I consider it a national shame of immense proportions that Mr President had to be recommended for foreign medical care despite the presence of over 250 ENT specialists and professors in Nigeria, as well as a National Ear Centre located in Kaduna state," he added.
JOIN OUR PULSE COMMUNITY!
Recommended articles
2023: There's plot to force Peter Obi out of the race - Okupe
Osinbajo visits Imo, says "there's a lot to be done"
2023: Again, PDP NWC adjusts dates for primaries
2023: I know poverty, I eat garri daily - Amaechi tells Niger delegates
NRC suspends resumption of Abuja-Kaduna train service indefinitely
Akpata slams Wike over accusations against NBA
My presidential ambition is to change lives of Nigerians - Lawan
Medical Association confers award on Ngige
Buhari joins prayers for late UAE President