'Terrorists still holding territory in Borno,' Resident says
Modu's account comes after General David Rodriguez, commander of the U.S. Africa Command, said that Boko Haram still holds "significant territory in northern Nigeria."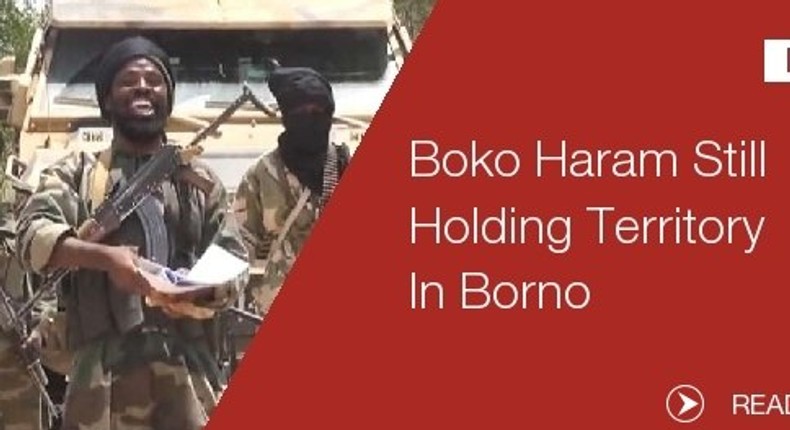 Ngari Modu, a transport official in the Nganzai area of the state, told the Associated Press that the government's claim that the sect no longer holds any territory is confusing.
"All we know is that Boko Haram lacks the capacity to carry out their usual commando-like attacks during which they march in and run down towns or villages, but that is not enough to say that they are not around," Modu said.
"We are left confused each time we hear soldiers saying no territory is now under the control of Boko Haram," he added.
Modu's account comes after General David Rodriguez, commander of the U.S. Africa Command, said that Boko Haram still holds "significant territory in northern Nigeria."
The amount of territory being controlled by Boko Haram had earlier come into question after Borno State Senator, Baba Kaka Garbai said that the terrorist sect still controls 50 percent of the state.
"It is a wrong assumption that most of the local governments in Borno are recaptured from the Boko Haram. In reality this is not true in the sense that apart from Maiduguri Metropolis, Bayo and Kwaya Kusar, these are the three local government that are under the occupation of the Nigerian government where the military and police are maintaining law and order," Garbai said while speaking to journalists on Saturday, February 6, 2016.
"Mobbar, Abadam and Kala Balge are 100 percent occupied by the insurgents. There are some local governments that are partially occupied by the insurgents especially as the local government secretariats have been liberated but their hither-lands are still controlled by the insurgents.
"Though Gwoza town has been liberated there still remain six wards in Gwoza local government area still occupied by the insurgents. From my count, only three local government are fully liberated, 21 local governments partially occupied by insurgents, that is there is still some level of Boko Haram occupation side by side the military or any other constituted authority.
"The local government fully occupied by Boko Haram are Abadam, Mobbar and Kala Balge. We should not live under the illusion that Boko Haram are decimated or weaken, these are not reality and neither a true reflection of the reality. The reality is that most of the local government in Borno is partially occupied by Boko Haram," he added.
Meanwhile, President Muhammadu Buhari has insisted that Nigeria has overcome Boko Haram and that the sect is no longer a threat to the country.
-------------------------------------------
See Pulse Photo-News gallery below:
JOIN OUR PULSE COMMUNITY!
Recommended articles
U.S. will act against China threats, says Biden
JAMB voids registrations of 817 UTME candidates
Gov. Sule to construct more rural roads to boost citizens wellbeing
Fuel tanker explodes on Ore-Benin Expressway in Ondo State
BREAKING: Supreme Court suspends CBN deadline on naira notes swap
Lagos APC suspends campaigns due to fuel scarcity
INEC showcases how results will be uploaded with BVAS machine
Ekiti pays N130m to retirees of LG, teachers
Fuel scarcity: NNPC starts direct supply to IPMAN