Relationship Talk With Bukky: I want to be his girlfriend but all he wants is sex!
He's my ex and actually has a new girlfriend. Still I feel like I'm being used.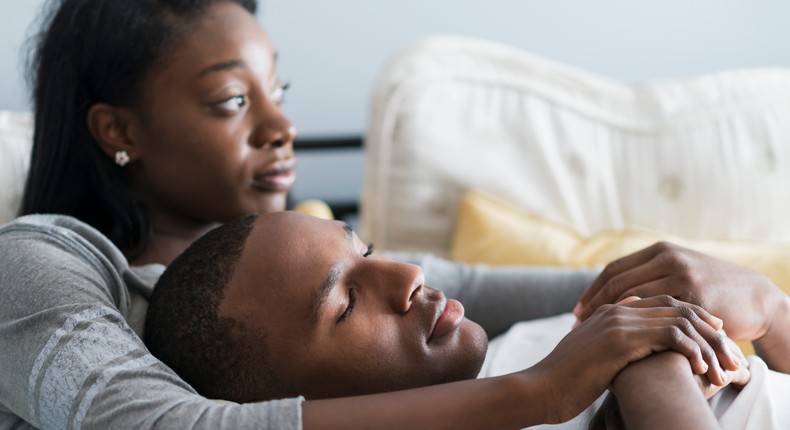 I'm 23 years old, I broke up with my ex-boyfriend two years ago but recently we reconnected and started seeing each other often but he has a girlfriend and he still tells me he wants to try and make us work.
I send him nudes and we have sex, I even went to Calabar to see him and I'm so in love with him and I don't know what to do. I'm confused.
He hasn't given me any reason to not love him; he treats me so nicely and tells me how much he still loves me but he still hasn't asked me to be his girlfriend again. I feel like I'm being used.
In a conflicted situation like this one in which you find yourself, the first thing to do is ask yourself; what do I really want?
This is really important because without a knowledge of this, you are really putting yourself out there for whatever comes. So know what your desires are, and consider what the pros and cons of that decision is.
So here's the deal: you know he has a girlfriend but you still like him and regardless of the girlfriend's existence, you have continued to do things with him. As an adult, I think you need to take some responsibility for these actions. He is not using you if you knew about the girlfriend prior to getting back with him. I think you knew exactly what you were getting into.
If you are sending those nudes and having sex with him in the hopes that he'll leave his girlfriend and get with you, then I think you are the one that has been playing yourself. You need to be honest with yourself and also be clear with that man about what's up. If you are playing games, you need to go into it with the knowledge that it's either you win or you lose. And when you lose, you shouldn't cry foul because the game is the game.
Ask yourself; "why do I feel like I'm being used?" Whatever your answer, I think you need to stop hoping that he'll leave his girlfriend for you. Just move on with your life if exclusivity is what you are looking for. You should go get that from someone else.
Do you want to talk about your love life, marriage or family issues? Do you have burning questions that you would love to get answers to?
Just send a mail containing your question and location to relationships@pulse.ng, and I'll provide the most honest answers to them anonymously.
So, why not send that mail today and let's talk about it? A problem shared is a problem half-solved!
JOIN OUR PULSE COMMUNITY!
Recommended articles
Sights and sounds from Fenty's Beauty launch in Nigeria
Best celebrity pictures on Instagram this week
Did you know some men find it hard to ejaculate? Here's why that happens
5 millennials talk about what they miss about being kids
Badagry Slave Route: Slaves passed these 5 notable stops on their journey of no return
Exclusive dinner or luxurious spa date for you – Match and Go!
3 celebrity looks inspired by Rihanna's pregnancy fashion
Check out StarTimes 2022 price and never-to-miss shows
5 African dishes to celebrate Africa Day 2022