Toys and Trends: How Europe is getting kids moving again
#FeaturedbyParentingNews24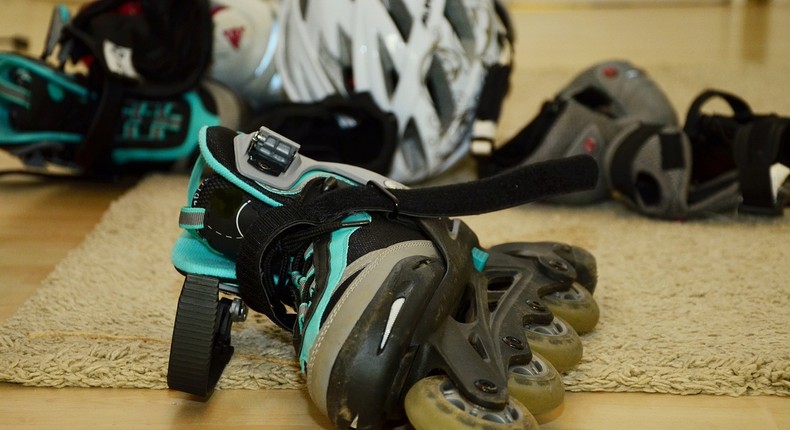 In an era dominated by screens and digital interactions, the significance of physical activity for children has never been more crucial.
Physical activity not only ensures the healthy growth and development of children but also instills in them habits that can last a lifetime.
It aids in cognitive development, enhances social skills, and, most importantly, combats the rising trend of childhood obesity. Europe, with its rich history of outdoor play and sports, recognizes the need to reintegrate movement into the daily lives of its youngest citizens.
The continent's response has been a blend of reviving classic activities and introducing new, exciting ways to get kids moving.
Modern Wheels and Thrills: Inline Skates, Stunt Scooters & Skateboards
Once a staple of the 90s, inline skates are making a significant comeback in Europe. Their resurgence can be attributed to their versatility and the full-body workout they offer.
Children are drawn to the speed and freedom they provide, while parents appreciate the balance and coordination skills they foster. Cities across Europe are recognizing this trend, with many creating dedicated paths and parks for skaters, ensuring safety while promoting this fun activity. For those interested in the latest popular models of inline skates, sport-und-abenteuer.de showcases the current Inline Skates favorites.
Stunt scooters have emerged as a favorite among the younger generation, offering a perfect blend of thrill and skill. These aren't your average scooters; designed for tricks and jumps, they challenge kids to improve their balance, agility, and motor skills. Skate parks across Europe are now filled with children eager to show off their latest moves, making stunt scooters a symbol of modern youth culture.
Skateboarding, a sport that originated from the streets, has found its way into the hearts of European children. No longer just a mode of transportation, skateboarding is a form of expression, creativity, and, of course, physical activity.
Schools and communities are increasingly incorporating skateboarding areas into their playgrounds, recognizing its appeal and the myriad of benefits it offers. From improving reflexes to building core strength, skateboarding is more than just a pastime—it's a lifestyle.
Promoting movement in early childhood
The foundation for a healthy lifestyle is laid during the early years of a child's life. Kindergarten, a time of exploration and discovery, plays a pivotal role in shaping a child's relationship with physical activity.
Through play, children not only engage in imaginative scenarios but also develop crucial motor skills, coordination, and balance. Games such as 'Duck, Duck, Goose', 'Hopscotch', and 'Tag' have been favorites for generations, not merely for their entertainment value but also for the physical benefits they provide," says Nadine Launstein of eltern-aktuell.de, one of Germany's leading magazines on children's toys.
Physical play in early childhood is more than just a means to burn off energy. It's a crucial component in the development of muscle strength, hand-eye coordination, and spatial awareness.
Activities that involve running, jumping, and even simple tasks like stacking blocks or coloring, contribute to the fine and gross motor skills development. These skills, once honed, play a significant role in a child's ability to perform more complex tasks as they grow older.
The Rising Concern: Childhood obesity in Europe
As the continent becomes more urbanized and technology-driven, there's been a noticeable shift in children's play patterns. The allure of screens has led to more sedentary lifestyles, contributing to a concerning rise in childhood obesity rates. This isn't just a health concern for the present; it's a looming crisis for the future.
Recent studies have shown that nearly one in three children in Europe is either overweight or obese. In Germany, the trend mirrors the broader European context, with urban areas witnessing higher rates of childhood obesity compared to rural regions. These numbers aren't just alarming because of the immediate health risks, but also due to the long-term implications associated with childhood obesity.
Childhood obesity isn't just a phase that children outgrow. It's often a precursor to adult obesity and is associated with a higher risk of developing chronic conditions like diabetes, heart disease, and even certain types of cancer. Moreover, the psychological impact, including low self-esteem and depression, can have lasting effects on a child's mental well-being.
Fitness initiatives for the Younger generation
Recognizing the gravity of the situation, many European countries, including Germany, have initiated programs to promote physical fitness among children. Schools, communities, and even private sectors are collaborating to reintroduce the joys of active play and structured physical activities.
Gone are the days when children's fitness meant just running around the park. Today, there are specialized programs designed to cater to the interests and needs of children. From dance classes to martial arts, from yoga for kids to obstacle courses, there's something for every child. These programs not only focus on physical fitness but also aim to develop discipline, teamwork, and resilience.
Furthermore, there are now dedicated websites, like online-fitness-coaching.com, offering specialized fitness equipment and training plans tailored for children, ensuring they receive comprehensive guidance in their fitness journey. These tools, while engaging, ensure that children are getting the necessary physical activity to lead a healthy life.
In addition to structured programs, there's a surge in innovative equipment designed to make fitness fun. Balance beams, climbing walls, and even tech-integrated tools like virtual reality fitness games are becoming popular.
Timeless Sports that never go out of style
Every generation has its trends, but certain sports have withstood the test of time, proving their worth not just as recreational activities but as vital tools for physical and mental development.
Badminton, with its swift shuttlecocks and rapid rallies, has been a backyard favorite for decades. It enhances reflexes and promotes agility. Football, or soccer as it's known in some parts of the world, remains Europe's undying passion.
From community fields to grand stadiums, it's a sport that teaches teamwork, strategy, and perseverance. Tennis, with its rhythmic rallies and powerful serves, is not just a test of physical strength but also of mental fortitude, making it a favorite for both young and old.
The Role of Parents and Educators
In the journey towards fostering a physically active generation, parents and educators play a pivotal role. Their attitudes, beliefs, and actions can significantly influence a child's inclination towards physical activity.
Parents who lead an active lifestyle themselves are more likely to have children who value physical fitness. Simple acts, like walking or cycling to nearby places, playing sports as a family, or even dancing at home, can set a positive precedent.
Educators have the power to make physical activity an integral part of the learning process. Be it through physical education classes, integrating movement in regular lessons, or promoting sports and games during breaks, schools can be the breeding grounds for healthy habits.
The future of active play in Europe
As Europe grapples with the challenges of a digital age, the future of active play might seem uncertain. However, there's a silver lining. The increasing awareness of the importance of physical health, combined with innovative solutions, promises a brighter future. It is imperative to reduce child obesity rates to ensure their long-term health and quality of life.
While traditional sports and games will always have their place, the integration of technology in physical activity offers new avenues to engage the younger generation. Virtual reality sports, augmented reality treasure hunts, and fitness apps tailored for children are just the tip of the iceberg.
Cities across Europe are reimagining urban spaces to promote physical activity. From transforming abandoned lots into community sports fields to designing pedestrian-friendly zones, the urban landscape is changing to prioritize movement.
The journey towards a physically active Europe is filled with challenges and opportunities. While the digital age poses its set of challenges, the combined efforts of parents, educators, communities, and innovative solutions ensure that the future of active play in Europe is not just alive but thriving.
#FeaturedbyParentingNews24
JOIN OUR PULSE COMMUNITY!
Recommended articles
Aquafina inspires and empowers Wisdom Nsima as a true 'Padi of Life'
5 major highlights from AAAN @50 AGM/Anniversary celebrations
11 things to do when travelling to another country
JOKA.NG takes attendees on an out-of-space journey with 'Games and Genres'
3 easy ways you can increase your daily protein intake
Top 5 Ebuka Obi-Uchendu's outfits during the BBNaija All Stars season
Unleashing the Maverick Spirit: Glenfiddich celebrates bold futures & Nigerian dream
How Nigerians dressed during the 1960 independence, according to Chat GPT
Nigerian excellence through the lens of Anny Robert in collaboration with Johnnie Walker
Here's why guinea fowls make great security guards
5 cute animals that are actually dangerous
This week's best celebrity pictures on Instagram
Ronaldo did not chase me out of Al Nassr — Vincent Aboubakar
Bukayo Saka: Arsenal star celebrates Nigerian Independence Day
Osimhen can succeed Messi, Ronaldo — Jose Peseiro
Super Falcons: Alozie, Plumptre lead Nigeria's 63rd Independence Day celebrations
Napoli social media executive resigns amidst Osimhen TikTok saga
I still love guys - Super Falcons' Michelle Alozie reacts to lesbian rumour
Heartbreak for Nigeria as AFCON 2027 bid slips away to East African rivals
Victor Boniface or Harry Kane: Who has had the better Bundesliga start?
Steph Curry: NBA star lists Nigeria's Burna Boy and WizKid among favorite music artists