You should think twice before travelling to these 5 coldest countries
When compiling a list of places you want to visit or relocate, it's useful to think twice about some of these countries.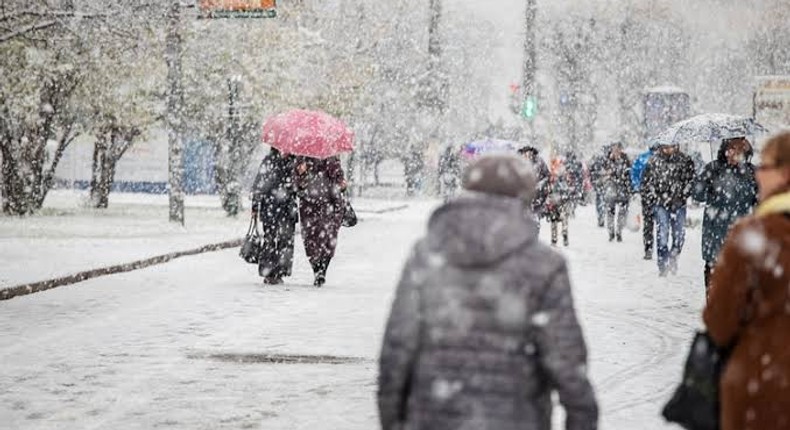 Did you know there are some countries with frigid temperatures that test the limits of human endurance?
In case you are wondering, here are the top five coldest countries in the world.
Russia
Spanning across Eurasia, Russia holds the title of being the coldest inhabited country on Earth. With a significant portion of its territory located in the Arctic and subarctic regions, Russia experiences bone-chilling winters.
The northeastern Siberian town of Oymyakon holds the record for the coldest inhabited place, where temperatures can drop below -50 degrees Celsius (-58 degrees Fahrenheit). Despite these extreme conditions, the Russian people have adapted, utilising technologies and practices to combat the cold and continue their daily lives.
Canada
For those thinking of japa, it is important to note Canada ranks high when it comes to how cold it gets. This second-largest country in the world boasts diverse geographical features, including vast tundra, frozen lakes, and polar regions.
In Canada, the northern territories of Yukon, Northwest Territories, and Nunavut experience severe winters with temperatures regularly falling below -30 degrees Celsius (-22 degrees Fahrenheit). Cities like Yellowknife and Iqaluit endure long, freezing winters.
However, Canadians embrace their cold climate by participating in activities such as ice hockey, skiing, and ice fishing, showcasing their resilience and love for winter sports.
Greenland
Greenland is an island, located between the Arctic and Atlantic Oceans. In Greenland, the ice sheet covers over 80% of the country, creating an otherworldly landscape.
The coastal areas witness milder temperatures, averaging around -10 degrees Celsius (14 degrees Fahrenheit) in winter, while the interior can reach bone-chilling extremes below -30 degrees Celsius (-22 degrees Fahrenheit).
Despite the harsh conditions, Greenland's Inuit population has thrived for centuries, adapting its lifestyle to the unique challenges posed by the cold.
Mongolia
Nestled between Russia and China, Mongolia experiences long, bitter cold winters. The country's high altitude and rugged terrain contribute to its frigid climate, with temperatures plummeting to -40 degrees Celsius (-40 degrees Fahrenheit) in certain regions.
Despite these extreme weather conditions, nomadic herders in Mongolia have developed a deep connection with nature and honed survival skills to withstand the country's severe winters.
Traditional dwellings called gers, or yurts, provide insulation against the cold, while herders rely on their livestock and resources to sustain themselves through the icy season.
Iceland
Although Iceland's name may evoke images of glaciers and ice, its coastal location near the Gulf Stream brings relatively milder winters compared to its Arctic counterparts.
However, the interior highlands experience colder temperatures, with winter averages ranging from -5 degrees Celsius (23 degrees Fahrenheit) to -15 degrees Celsius (5 degrees Fahrenheit).
Despite the cold, Iceland's geothermal energy sources provide warmth and hot water to its inhabitants. The country's unique landscapes, including volcanoes, geysers, and hot springs, offer a stark contrast to the icy environment.
In addition to these countries, Finland, Kazakhstan, Norway and Sweden also rank high when it comes to coldest countries.
JOIN OUR PULSE COMMUNITY!
Recommended articles
8 reasons you should switch from pads and tampons to a menstrual cup
Discover 5 must-try beauty and skincare ingredients from around the world
5 reasons your ex left and why you should not consider taking them back
Toyin Abraham's corset gown looks uncomfortable, here's why the trend needs to die
From sheep penis to chicken testicles, here are 7 weird foods eaten in China
Medlin Couture: Elevating Nigerian fashion on the global stage
7 signs your child could be experiencing a mental illness
5 unique wedding food traditions from around the world
I slept with an onion in my sock, here is what happens
8 effective natural laxatives for stomach relief
DIY Recipes: 2 ways to roast plantain at home
3 things you shouldn't do for a woman you are not married to
I still love guys - Super Falcons' Michelle Alozie reacts to lesbian rumour
Heartbreak for Nigeria as AFCON 2027 bid slips away to East African rivals
Victor Boniface or Harry Kane: Who has had the better Bundesliga start?
Steph Curry: NBA star lists Nigeria's Burna Boy and WizKid among favorite music artists
Controversy as Super Falcons' Michelle Alozie unveils her 'female lover'
AFCON 2027: Algeria hands Nigeria a major boost
TikTok wahala: Osimhen deletes Napoli pictures from Instagram
Wilfred Ndidi: Style Essentials inspired by the Leicester City's Nigerian midfield maestro
TikTok trolling: Osimhen set to sue Napoli for serious damage