5 terrific ways to include mango in your diet
Ayo Olaogun of Eat Right Africa shares tips on how to include mango in our everyday diet to enjoy the benefits of this healthy fruit.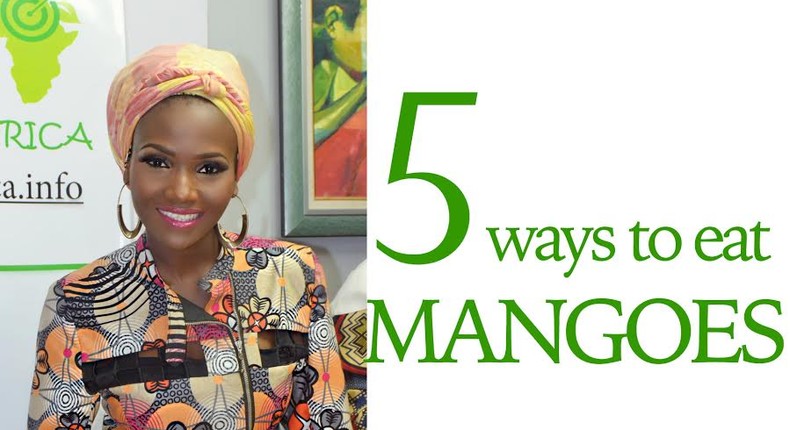 Mangoes are so abundant right now because its mango season.
Mango is of course loaded with so many health benefits, it won't be a bad idea to replace those apples for mangoes. So, in place of the one apple a day, just do one mango a day.
Science has proven time after time that mangoes contain antioxidants that protect against several kinds of cancers. e.g. colon, breast, leukaemia and prostate cancers. Serum cholesterol levels are lowered by the high levels of fibre, pectin and vitamin C contained in mangoes. Alongside the immune system booster function, mangoes help improve the skin's health; externally on the skin, as a body scrub, high levels of vitamin A in mangoes help clear pores and eliminate pimples, vitamin A also improves eye health, prevents night blindness and dry eyes.
Mangoes also help maintain the body's alkaline reserve. Mangoes aid digestion because they contain enzymes that break down protein. Consuming moderate amounts will not spike up blood sugar levels due to the fruit's low glycemic index.
Unripe mangoes and the fruit's leaves are often used as medicine. Fresh mango juice helps the body cool down in cases of heat strokes.
The numerous benefits of mangoes extend to the fruit's protein-glutamine acid, that aids concentration and memory, its richness in iron, it's capacity to reduce the risk of kidney stones. Snacking on mangoes regularly is a healthy habit to cultivate whether you're aiming to lose weight or not, mango is a super fruit, packed with awesomeness for everyone!
Ayo Olaogun of Eat Right Africa shares ways to add more mangoes to your diet.
1. Use mango puree as a spread on your bread. It's a lot more healthy than using jam and all that. Mangoes contain about 70% vitamin C which is required by the body on a daily basis.
2. If you want to cut down on oils, you can use the mango as dressing for salads as against the fattening salad dressing like mayonnaise and co.
3. As part of your fruit salad recipe, you can include chopped mangoes. It gives your salad a really nice taste.
4. For a dessert option, peel off the skin of the mango, slice and blend with some ice cubes. There you go! Healthy dessert.
5. Making a smoothie out of mango requires just banana, apple and mango.
There you go! 5 easy ways to include mango into your diets.
Eat healthy, live healthy.
JOIN OUR PULSE COMMUNITY!
Recommended articles
Pategi Beach: The undiscovered natural wonder of Nigeria
5 reasons Big Brother Naija relationships don't last
Five reasons why you need to invest in Real Estate
The Library: Redefining nightlife in Lagos
5 simple tips for finding love while travelling
Fashion Police: Here's what we think about Chioma Good Hair's birthday shoot
5 s*x positions that guarantees orgasms
Here are 5 things you must do immediately after you have s*x
Can having a lot of s*x loosen the vagina? Here are all the myths and facts