Stubborn dandruff? Flaky Hair? Natures Gentle Touch is best
If looking to get rid of dandruff, itching and flaky scalp, Natures Gentle Touch Tea Tree Anti-Dandruff range is your best option.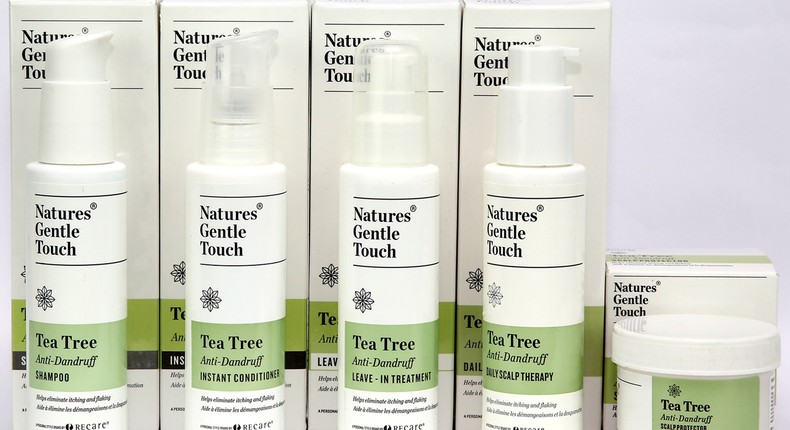 If looking to get rid of dandruff, itching and flaky scalp
I've had an itchy scalp for as long as I can remember! I used to get dandruff a lot and over the years as I got to know more about haircare and wellness i realized it was more of dry scalp (we'd discuss the differences in the nearest future) prompting me to make sure to use specific products and treatment that help (as well as lifestyle habits like upping my water intake) and it seemed under control. I had to cut my hair at a point when itching became unbearable (turning it into a nice cut that was easier to tame all I needed was the hair to be short as possible)
So when I got sent Natures Gentle Touch bundle for Dandruff (a little reluctant if you've had stubborn itchy scalp you'd probably feel the same way) I was going to just try it out for the sake of just that -and honestly It took me a while before trying (not till one night the itching became unbearable that I decided to try out to 'see what this one could offer'!).
The bundle came in Shampoo, instant conditioner, leave-in treatment, scalp protector i.e Natures Gentle Touch Tea Tree Anti- Dandruff Shampoo, Natures Gentle Touch Tea Tree Anti- Dandruff Instant Conditioner, Natures Gentle Touch Tea Tree Anti- Dandruff Leave-In Treatment and Natures Gentle Touch Tea Tree Anti- Dandruff Scalp Protector.
They (the range I got) are all targeted at dandruff as each product came listed as "Anti- Dandruff" with the promise "Helps eliminate itching and flaking associated with dandruff" on each product pack. Presented in a bottle with a pump, all bottles are leak-free and 'tidy' with each product carrying a step by step guide on how to use it.
For my first use, I tried all four products that night first the shampoo which made me feel like woah instantly as it's not your regular rose gold thick soapy wash, it came in blue; sky blue and unexpectedly after the first use, I didn't itch for another one week at least this was a first and it got me a tad excited!
The shampoo surprisingly lathers well enough for a blue one -though you need a lot more than regular shampoo- and instantly delivers a tinge of minty, soothing refreshing feeling- it almost came a little too minty for me but then I reckon it's because I had itched my scalp so much before i decided to try out the products that night.
I followed up with the leave in conditioner left in the damp hair for a few minutes before rinsing out and then I followed up with the leave-in treatment and the scalp protector! This 'combo'  worked for me, the itching has stopped for a while, the nasty flakes on the scalp are gone and hair feels shinier and looks healthy after using for weeks now! I have held back on a haircut and leaving hair to grow at the moment as itch and flakiness are gone.
-Tea Tree for the dandruff range which is great as antibacterial and antiseptic, a wonder beauty product!
-The mint freshness that comes cooling and soothing
-Definitely tackles dry scalp, dandruff and itchy scalp
-The mint may come too much for people with very soft scalp (so test patch first otherwise it's perfect)
Otherwise Natures Gentle Touch's dandruff range is one to own to tackle dry scalp and dandruff issues.
JOIN OUR PULSE COMMUNITY!
Recommended articles
From Waves to Weaves: 10×10 storms hair industry with a 9-day market activation in Lagos
This week's best celebrity pictures on Instagram
20 ways people experience unexpected orgasms
Everything you missed at the #TheMeistersExpression Concert in Ibadan
In this Ugandan tribe, the bride's aunt has s*x with the groom to test his sexual prowess
Skinny shaming: 5 things you should never say to a slim person
The importance of boundaries in relationships: Nurturing love and respect
Trace to set the African music scene ablaze with first Trace Awards & Festival in Kigali
Study shows men have been peeing wrong; they ought to sit and not stand
Denola Grey is one of the new faces of Fenty Beauty
How to survive the rising cost of petrol and transport in Nigeria
7 incredible health benefits of bitter kola