Singer apologises to fans, brothers in new Instagram post
The singer who has been bent on going solo in the last few weeks has taken to his instagram page to apologise to his brothers as well as their fans.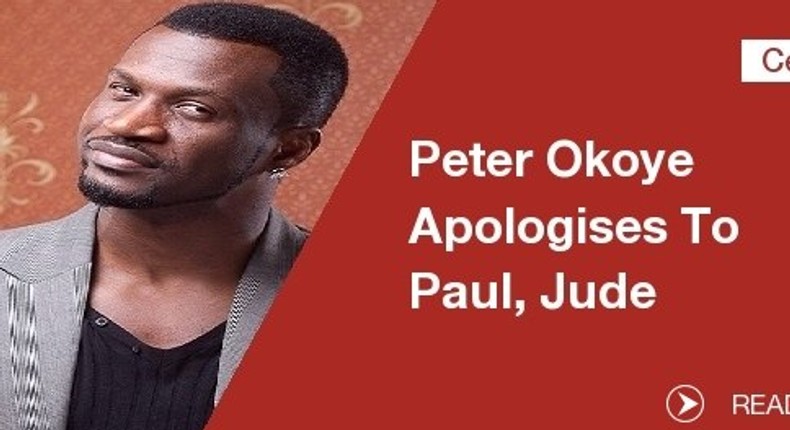 In what seems like a sudden change of heart,
Although, the apology did not any information that points to a general reconciliation, we can all agree that this is a step in the right direction.
Peter shared a photo of himself, signing autographs with a few fans at his last solo performance in Abuja, commenting:
In an explicit apology, the singer shared a photo of a dove being released to fly freely, while noting that it had taken their "stupidity" to realise that family came first.
He shared the photo with the caption:
"That it took our stupidity to realize that FAMILY comes first, We are VERY SORRY. @rudeboypsquare @judeengees #dembeonenobetwo #PSquareForever."
At this point, we do not know what to expect from the somewhat erratic reactions Peter has been displaying, especially after his epic interview with online publication, 'Nigerian Entertainment Today'.
Meanwhile, Paul has made it abundantly clear that their family united, is far beyond P Square and their achievements, as he publicly apologised to his brother.
Watch all about the controversy in video below.
JOIN OUR PULSE COMMUNITY!
Recommended articles
Police Spokesman claims Iyanya can be arrested after shoving fan in Awka
'BBTitans': Sandra and Theo Traw evicted from Biggie's house
King Perryy drops new single, 'On God'
'All Na Vibes': Taiwo Egunjobi's young-adult drama frustrates more than it excites [Pulse Review]
M.I brings Vector, Ice Prince, Jesse Jagz to Festival in Jos
Future Sounds Vol.40 featuring Timi Dre, John Dreyz, Triipy, D Yong, Marvy and more
Actor IK Ogbonna's mum passes away
'BBTitans': Yemi and Miracle almost exchange blows over Khosi's matter
'Ijogbon': Here's your first look at Kunle Afolayan's new movie