VP says FG will ensure return of refugees
The Vice-President also accused Boko Haram of creating a humanitarian disaster that needs urgent attention.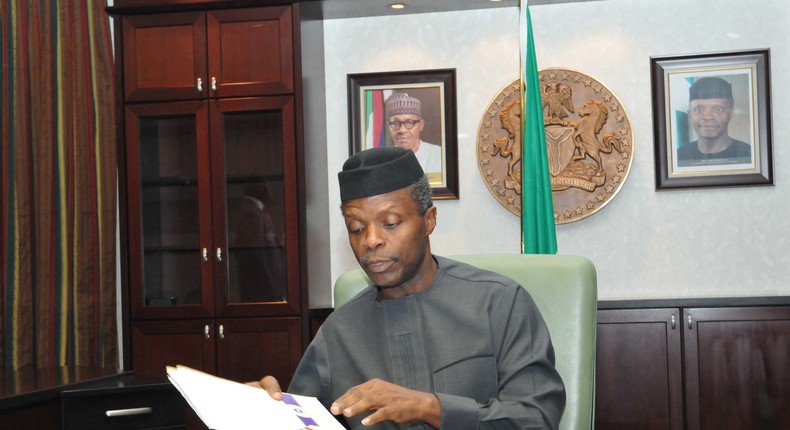 The Vice-President of Nigeria,
Osinbajo also assured journalists that the final plan will be rolled out as soon as various stakeholders approve it.
He said "But it is for such a time as this that the visionary leaders of Niger, Cameroon, Chad and Nigeria established the Lake Chad Basin Commission in 1964.
"Those pioneers expected that working together as brothers in the commission, the ecological, commercial and social lives of the Lake Chad basin stood a much better chance of survival. They expected, even then, that there would be challenges, but they knew that the most daunting challenges are conquered by men and not spirits."
"And they trusted in the creativity and hard work and the unbending will of their descendants to preserve the legacy that they left behind. That legacy is facing the most important threat today.
"The question is whether the twin challenges – the humanitarian and the ecological – will defeat the will, creativity and patriotism of this generation of leaders of the Lake Chad commission.
"If this were to happen, then in a few short years, the commission would probably, only exist on paper. God forbid," Osinbajo said.
See Pulse Photo-News gallery below.
Get our Top Stories delivered to your inbox
Recommended articles
4 more Kaduna train attack victims regain freedom from terrorists
PDP: Peace efforts commence as Wike, Atiku's teams meet in Rivers
President Buhari receives 2022 Commonwealth Games athletes on Sept. 15
Just In: Kidnapped Nasarawa Commissioner regains freedom
Buhari approves redeployment of 9 Perm Secs
Anambra govt to to sanction general hospitals performing below standard
Ritual shrine: Edo Govt gives police 7 days to conclude investigation
Oyo anti-graft agency nabs govt officials for alleged diversion of funds
Stability of Chad is in Nigeria's interest, says Buhari