Gov promises improved welfare, good leadership in Edo
Newly sworn in Governor, Godwin Obaseki has promised the people of Edo state an improved welfare and good leadership.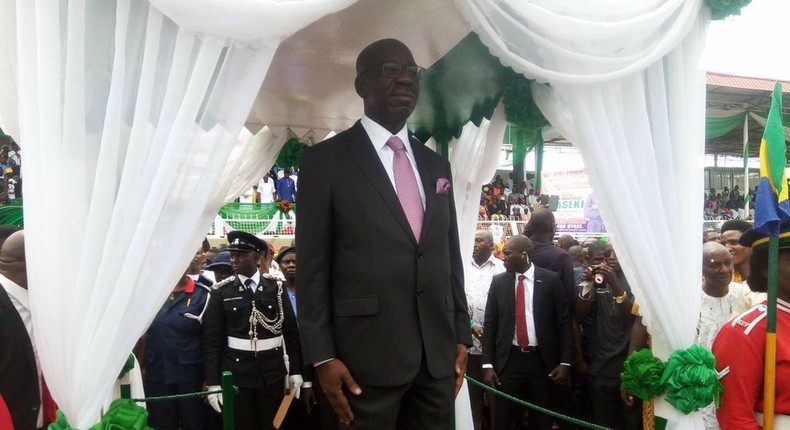 He made the pledge in his address to Edo people immediately after his inauguration as governor of the state in Benin on Saturday.
Obaseki, who was sworn-in along with the Deputy Governor, Mr Philip Shaibu, said his administration would be committed to improved welfare of the citizens.
A member of the All Progressives Congress (APC), he defeated his opponent of the Peoples Democratic Party (PDP), Mr Osagie Ize-Iyamu, at the September 28, 2016 governorship election.
The governor promised to complete all ongoing projects in the state and called for the support of the people to enable his administration to succeed.
He said that he utilise the agricultural potential of the state to improve on the living standard of the people, and promised to build on the legacies of his predecessor, Adams Oshiomhole.
"I am humbled and proud of succeeding a governor, who in the last eight years provided dedicated, fearless, inspired leadership that has transformed our state in ways people considered impossible.
"Taking the reign of office from my leader and mentor, Adams Oshiomhole is an honour that I will always treasure. I will always respect and hold dear to my heart, his love, confidence, counselling and inspiration.
"I want to thank you Comrade Governor, in the presence of all and before the whole world, for being the leader that you have been for the people of Edo.
"I want to assure you that as we take over today from where you stopped, we have resolved to build on your legacy.
"We need to strengthen and expand the infrastructure that has been established so that we can have a foundation on which to build a new Edo of our passionate dream.
"We will need to build and sustain a robust human intellectual, philosophical and even metaphysical infrastructure, because without them, it is virtually impossible to attain significant progress,'' he said.
Obaseki reaffirmed that his mission was to achieve prosperity for Edo people by progressing the work previous administrations.
According to him, as we begin our journey to build a new Edo, I want to repeat and affirm that promise; I have pledged to create 200,000 jobs in the next four years.
"We will achieve this by leveraging on our comparative advantages and our key factor endowments in production and commerce.
"Our key factors will focus on commerce and agro business value chains like the entrepreneurship, investment in industries, technical and vocational skills.
"We will also fill all vacancies in the civil service and optimize job creation potential in infrastructural development.
"Agriculture is a major focus in our socio-economic programme because of its strategic importance in many areas, from food sufficiency to rural development, economic development, job creation and critical revenue generation.
"For us, we will make agriculture a business. Many Edo people will generate wealth by keying into our value chain development of oil palm, cassava, grains, rubber, fruits and vegetables,'' he said.
The governor thanked God "for seeing us through a very peaceful election where the will of the people prevailed''.
JOIN OUR PULSE COMMUNITY!
Recommended articles
2023: Nigeria's next president must pay attention to restructuring - Tambuwal
Delta approves construction of International Conference Centre
2023: I'm more experienced than Osinbajo, Tinubu, others - Amaechi
Explosion: Police seize vehicle loaded with bomb-making materials in Kano
2023: I will replicate Lagos development in Nigeria, says Tinubu
Okada ban: Lagos police vows to arrest, prosecute passengers
Army, DSS destroy IPOB training camp, kill 2 wanted members in Imo
Catholic Church suspends Priest for joining governorship race in Benue
Rampaging youths burn houses, injure pastor over 'blasphemy' in Bauchi