'Biafra is a bigger problem for Igboland,' Group tells agitators
The group urged Nnamdi Kanu and other agitators to bury the idea and struggle for the Republic of Biafra.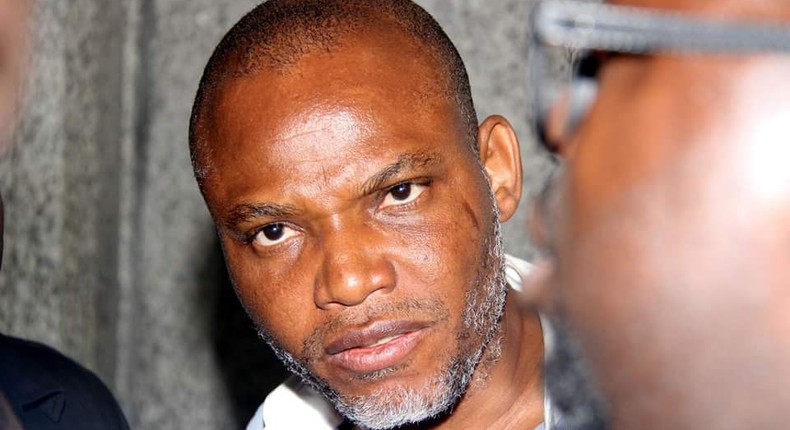 The Igbo Nigeria Movement (INM) has advised the Leader of the Indigenous People of Biafra (IPOB) leader,
INM called on all Igbos to bury the idea and struggle for the Republic of Biafra.
The group warned that the ongoing clamour by some persons for the secession of Igbo from Nigeria was a call to self-destruction and would only do them more harm than good.
INM leader, Igwe Ifeanyi called on those supporting the return of Biafra to quickly swallow their words and work together for a united Nigeria in line with the vision of great nationalists like Dr. Nnamdi Azikiwe.
According INM, the slogan 'Nigeria is a zoo' has succeeded in expunging the Igbos from the scheme of things in the country.
"The ongoing clamour by some infertile-minded Igbo brethren for the secession of South east from Nigeria is a call to self-destruction, to say the least," Ifeanyi said.
"It is obvious that those championing the movement for the return of Biafra were not born during the civil war and have no single idea of what Ndigbo went through during and after the war.
"We therefore call on those behind this movement to sheathe their sword and embrace a one and united Nigeria.
"Biafra is never the solution to our problem. In fact, it is the beginning of more problems for our already-troubled land," he added.
JOIN OUR PULSE COMMUNITY!
Recommended articles
2023: Why the Obidient movement is a useless one – Asari Dokubo
Terrorists did not enter church in Onitsha, Anambra – Police
Mixed reactions as Femi Otedola endorses Tinubu
V-C urges FG to take steps to end ASUU strike
NYSC D-G warns youth corps members against local politics
1 million Nigerians to be recruited for 2023 census
Insecurity: FG seeks further cooperation of states on ranching
It is time for our looted artefacts to return home – FG to Britain
2023: Sani picks El-Rufai's deputy, Balarabe, as running mate