NIS deports 6 British citizens
The Comptroller-General, Martins Kure-Abeshi said this in a meeting with the House of Representatives Committee on Interior.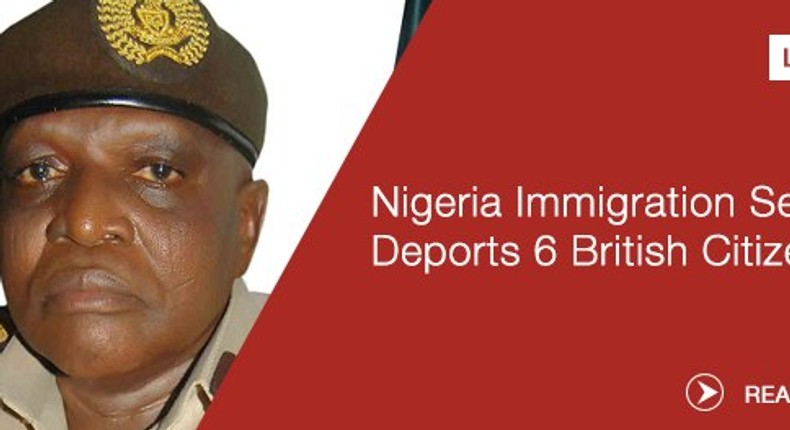 The Nigeria Immigration Service (NIS) has deported 6 British citizens for violation of immigration law.
This was revealed to newsmen by the Comptroller-General of the NIS, Mr. Martins Kure-Abeshi, in a meeting with the House of Representatives Committee on Interior.
Abeshi said "I just arrived from abroad yesterday (Monday) and met this case.
"As I am talking, yesterday in the evening, the company that employed those expatriates, after my discussion with them, they are to be responsible for their air tickets.
"As I am talking now, I am sure they have been flown out."
Adding that "It is against the law of the land. So their first employer complained about these expatriates, so it is an offence they have committed and we have ordered their deportation.
"When we conduct our operation and discover that someone who is not a Nigerian is living in this country illegally, he will be repatriated. That is on our own part, they have to go."
"There is another another angle to it. If he is a worker, working in a company and we discover that he does not have papers to stay in this country, he has committed an offence against the state, the company that the expatriate is working will give us money, buy ticket or whatever is their responsibility.
"Before anybody takes an appointment here as an expatriate, the organisation will write to immigration that they are taking immigration responsibility for that expatriate.
"If that expatriate commits any offence against the company and they want to remove him, that company must provide ticket so that the person is removed from this country," the NIS boss said.
The NIS boss was at the National Assembly to defend the 2016 budget estimate of the agency.
JOIN OUR PULSE COMMUNITY!
Recommended articles
Wike, Makinde, Ortom meet Obasanjo ahead of presidential primaries
PDP Primaries: Ortom wins senatorial ticket as serving Ondo senator loses
If I become president, any govt official that spends dollars will be jailed -Peter Obi
Rubber producers present life crocodile to Obasanjo, say they can't give him money
Presidential ambition: Emefiele withdraws suit against INEC, AGF
PDP Primaries: Enugu reports peaceful and transparent elections
PDP primaries: INEC accused of swapping delegates list in Ogun State
Rep Ogbeide-Ihama picks PDP ticket for Edo South at Senate
Buhari commiserates with Kano people over gas explosion