Avengers split, breakaway faction vows to reveal sponsors
The 'repented' faction also urged the Indigenous People of Biafra (IPOB) embrace the current peace deal.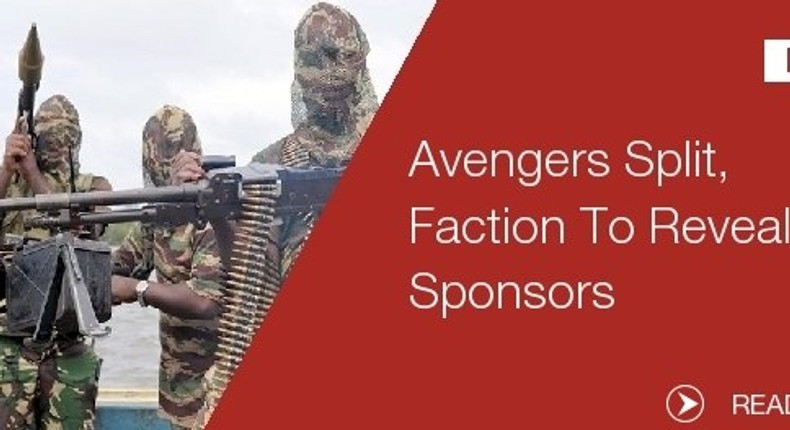 There is division within the ranks of the militant group, Niger Delta Avengers (NDA), it has emerged.
A breakaway faction, which revealed itself as the Reformed Niger Delta Avengers (RNDA), has released a statement signed by one Cynthia White, promising to cooperate with the government.
The faction said it decided to split from the NDA following appeal by former President Goodluck Jonathan and its conviction that the peace initiative of the Movement for the Emancipation of the Niger Delta (MEND) is genuine.
"We have decided to join the MEND Aaron Team 2 peace initiative through the clearing house of Niger Delta Dialogue and Contact Group (NDDCG) headed by HRH King Alfred Diette-Spiff," the statement said.
"We will also cooperate with the government by exposing the identities of our comrades who remain stubborn in their insistence to continue attacks.
"For example, it will shock the nation to know the Jekyll and Hyde personality behind the pseudonym 'Brigadier General Murdoch Aginibo' and our sponsors," the group added.
The group also urged the Indigenous People of Biafra (IPOB) embrace the current peace deal.
"Those advising Mr. Kanu (Nnamdi) to do otherwise do not love him nor appreciate the level of treason this simple act of common sense and humility can extricate him from.
"The Niger Delta will no longer be your proxy in a war to achieve your ambition.
"To our comrades in the NDA, we urge you to stop being defiant and embrace peace and the wise counsel we all received from former President Jonathan," the RNDA said.
The NDA had vowed not to be part of the peace talks secured by MEND, insisting that it would continue in its attacks on oil installations.
JOIN OUR PULSE COMMUNITY!
Recommended articles
Osinbajo bags Leadership Person of the Year Award
Deborah: Police declare suspects seen in viral video wanted
2023: Court restrains CBN, INEC from stopping Godwin Emefiele from contesting
2023: Adesina rules himself out of presidential race
2023: Orji Kalu slams Tinubu, Osinbajo and other presidential aspirants
Fayemi rubbishes Oshiomhole's rigging allegation
2023: Sowore vows to scrap NYSC
2023: Fani Kayode cautions parties against granting Muslim-Muslim ticket
Biden approves redeployment of U.S. troops to Somalia