Why South African president visited Nigeria
The visit to Nigeria by Jacob Zuma, has been widely acknowledged as a move by the two continental giants to straightened rough edges in their diplomatic relation. Sunday Isuwa & Nelson Omonu look at the real reason Zuma visited Nigeria.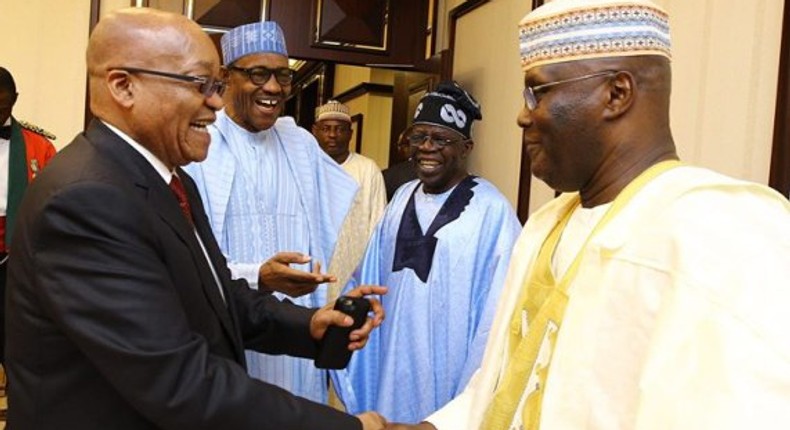 Speculations are being made on the real intention of the South African President visit to Nigeria.
Sources close to the South African embassy in Nigeria told Pulse that President Jacob Zuma's visit was principally meant to divert attention of his countrymen from the critical governance issue like corruption that has characterized his government.
The sources said further that, having suffered thorough humiliation during his state of Union Address and narrowly survived a no-confidence vote in South African parliament in the past week, Zuma decided to cash-in on the Nigeria-MTN face-off to shore-up his domestic rating, which is at its all-time low.
Nigeria Communication Commission (NCC) had fined MTN, a South African company over SIM card registration but in its proposal for settlement of the face-off with the Nigeria government, MTN planned to pay N300 billion only out of the N1.04 trillion that was later reduced to N780 billion.
"Why now? Why is it now, after nearly 8 years in power that Zuma chose to acknowledge Nigeria's anti-apartheid efforts? After humiliating Nigeria and her people during the death and burial of the anti-apartheid icon, Nelson Mandela" an influential Nigeria politician asked.
He queried further why president Zuma kept quiet since the face-off began and chose to intervene in the MTN dilemma now. He said Zuma's sudden overture to Nigeria on the seized arms funds may have been a face-saving measure, haven't kept mum since the money was seized in 2014.
The South African left-wing opposition party, Economic Freedom Fighters (EFF), led by the radical Julius Malema, had dragged the country's president, Jacob Zuma to Court for ignoring a 2014 report by the anti-corruption watchdog, known as Public Protector, in which Zuma was indicted for illegally using $23 million of public funds to upgrade his residence in his home village of Nkandla.
The protest by thousands of men and women in red dress, the trademark of the Economic Freedom Fighter Party, is in reaction to what they perceived as an attempt by Zuma's administration to cover-up the 2014 report in which he was said to have unduly benefitted. The aim of EFF's litigation was for the Constitutional Court to rule that Mr. Zuma flouted the constitution of South Africa by the way he ignored the report. This would have paved the way for president Zuma's impeachment.
An influential politician in Nigeria, Umar Duhu, told pulse that Zuma's visit might not be unconnected with the influence of the present Nigeria government in the African politics.
Duhu, who said President Muhammadu Buhari has increased Nigeria image and influence in the world politics, added that many continental leaders will now see Nigeria as potential partners.
JOIN OUR PULSE COMMUNITY!
Recommended articles
TASCK uses influence of creatives to drive YIAGA's SixtyPercentofUs Initiative ahead of elections
Christians, Muslims votes will make Tinubu President - Keyamo
We can't force universities to close for elections - INEC
Atiku's men adopt new strategies to conquer G-5 Governors
NRC suspends Abuja-Kaduna train services due to derailment
Osun Tribunal did the right thing - Sanwo-Olu reacts to Oyetola's victory
Northern governors condole Nasarawa governor over son's death
Oyetola reacts to tribunal's verdict
U.S. disburses $7.8bn to boost eradication of HIV/AIDS in Nigeria