Agency reportedly investigating 11 Senators over N367.5bn 'fraud'
According to a document, 11 of the Senators under investigation are from the North while the others are from the South.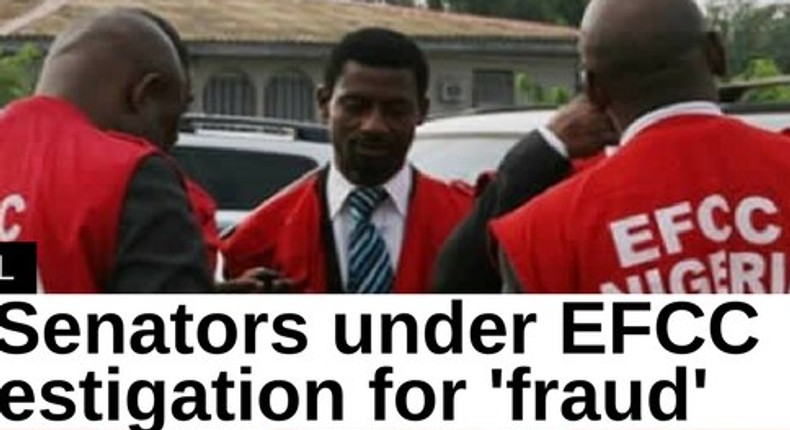 About 18 Senators are reportedly being investigated by the
According to The Nation, seven of the affected lawmakers are on trial - some of the cases are said to be as old as 10 years.
A Senator is said to be on the list for alleged stamp duty infractions.
The report said one or two senators, who are outside the list, are being investigated for their alleged involvement in the N19 billion and $86 million London-Paris Club refund in which seven governors have been implicated.
A document obtained by the newspaper shows that 11 of the senators under investigation are from the North while the others are from the South.
Most of the N367.5 billion alleged fraud border on money laundering, misappropriation, unexecuted contracts, diversion of public funds to campaigns, and others, the report said.
"The case files of all these 18 senators are already with us. Seven of them are already on trial," an EFCC source was quoted as saying.
"But, certainly, 11 others will be prosecuted at the appropriate time. It may interest you that some agencies in a few international jurisdictions are interested in some of the cases against some of these senators.
"It might also interest you that some of these cases predated the appointment of the present Acting Chairman of EFCC, Mr. Ibrahim Magu. But since continuity is a cardinal principle of the EFCC, Magu has decided to ensure that the matters in court are pursued to logical conclusion. There is also no waiver for all cases undergoing investigation."
The source clarified that "Magu has no personal problem with any senator. He inherited most of these cases."
It was also reported that the Senators have also made a "strong case for the discontinuation of either their investigation or prosecution by the EFCC as part of the conditions for supporting  Magu.
"In one of the lobbying sessions, a senator from the North-East said he committed no crime to have been subjected to trial by the EFCC.
"Although a Senator from the North-Central was aggrieved, he was reported to have said: 'I won't block the nomination of Magu because he is probing me. I have forgiven him. But I know I did not commit any fraud and I will be vindicated in the end."
The Senate has twice rejected the nomination of Magu as the substantive Chairman of the anti-graft agency based on a report by the Department of State Service (DSS) which discredited Magu.
The Presidency has, however, refused to resubmit Magu's name to the Senate for confirmation, stating that the upper chamber's approval was not required in the first place.
The matter has now been taken to the Supreme Court to determine Magu's fate.
JOIN OUR PULSE COMMUNITY!
Recommended articles
PDP Primaries: Ortom wins senatorial ticket as serving Ondo senator loses
If I become president, any govt official that spends dollars will be jailed -Peter Obi
Rubber producers present life crocodile to Obasanjo, say they can't give him money
Presidential ambition: Emefiele withdraws suit against INEC, AGF
PDP Primaries: Enugu reports peaceful and transparent elections
PDP primaries: INEC accused of swapping delegates list in Ogun State
Rep Ogbeide-Ihama picks PDP ticket for Edo South at Senate
Buhari commiserates with Kano people over gas explosion
Africa loses 300,000 women, children due to smoke from firewood — Adesina