More than 100 girls want to stay with Boko Haram – Community Leader
The sect abducted over 200 girls from the community in April 2014 and most of them remain in captivity.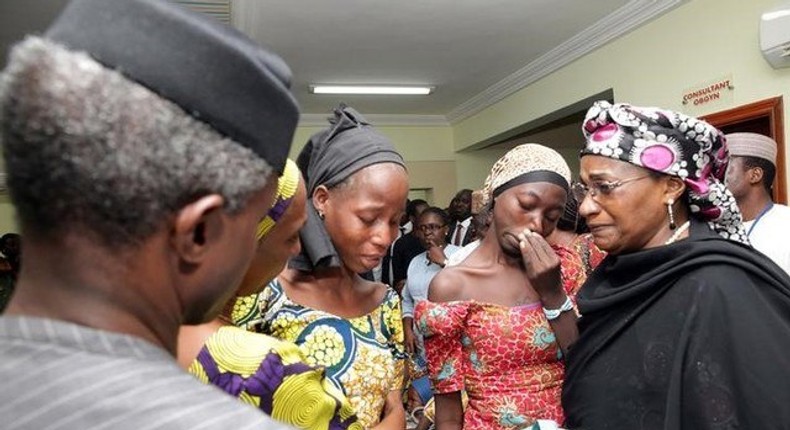 A leader of the Chibok community has said that more than 100
The Nigerian government was however able to secure the release of 21 girls on Thursday, October 13.
The revelation of the girls' unwillingness to return was made to The Associated Press by Pogu Bitrus, the Chairman of the Chibok Development Association.
According to Bitrus, the girls may have been radicalized by Boko Haram or are ashamed to return home because they were forced to marry extremists and have babies.
He also urged the government to relocate the 21 girls abroad to prevent them from being ostracized in Nigeria.
"We would prefer that they are taken away from the community and this country because the stigmatization is going to affect them for the rest of their lives. Even someone believed to have been abused by Boko Haram would be seen in a bad light," he said.
Bitrus said further that some Chibok girls who escaped from the terrorists were forced to leave the town because they were labelled "Boko Haram wives."
The 21 girls were freed following negotiations brokered by the Swiss government.
Talks are also ongoing to secure the release of 83 more girls, but the Nigerian government has denied swapping the girls for detained terrorists or paying a large ransom.
JOIN OUR PULSE COMMUNITY!
Recommended articles
Sanwo-Olu increases BRT fares by N100
Military recovers 3.8m litres of crude oil, arrests 26 thieves
Onitsha port will generate over N23 billion in 30 years - Saraki
NEMA receives 98 stranded Nigerians from Niger Republic
Corruption: EFCC expresses worry over declining number of whistleblowers
INEC vows to prosecute anyone involved in multiple PVC registrations
Trial of suspected invaders of retired Justice Odili's home suffers setback
Anambra confirms 1 positive case of monkeypox – Commissioner
Bill to set up commission for electoral offences passes 2nd reading