Buhari preaches unity, inclusion as Kenyatta delivers inauguration lecture
He added that the task of nation building was a collective one, transcending political affiliations and personal interest.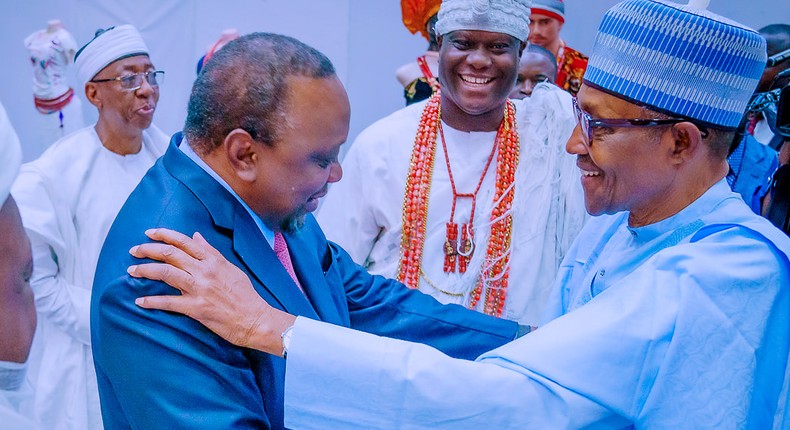 President Muhammadu Buhari has called on Nigerians to embrace unity and inclusiveness so as to accelerate development.
Buhari made the call on Saturday in Abuja at the 2023 Presidential Inauguration Lecture, which was delivered by former Kenyan President Uhuru Kenyatta.
According to Buhari, Nigerians have recognised the challenges and division that have tested the very fabric of the nation.
"We have confronted the persistence of corruption and the imperative to empower all citizens.
"But more importantly, we have witnessed transformative power of democracy and the immense potential it holds to our great nation,'" he said.
Buhari said that Kenyatta 's lecture had also proven that democracy was not merely a system of governance but a way of life.
"It requires active participation, inclusivity and relentless pursuit of truth and fairness.
"We have understood that true democracy thrives when the voices of all citizens are heard and represented regardless of their background or social status.
"The underlying philosophy of this lecture has been rooted in the belief that our nation's progress rests on the pillars of unity, inclusiveness and shared responsibility," he said.
He added that the task of nation building was a collective one, transcending political affiliations and personal interest.
"With a commitment to leave no Nigerian behind, ensuring that every citizen feels the positive impact of governance and enjoys the dividends of democracy .
"The lessons we have learnt here are not mere intellectual exercise but a call to action.
"As I prepare to hand over the reign of governance to the President-elect on May 29, I feel a new sense of hope hitched on the capacity of my successor," he said.
Earlier, in his lecture titled "Deepening Democracy for Development and Integration", Kenyatta commended the Nigerian president for presiding over a successful transition programme.
He also commended Nigerian politicians for ensuring that the electioneering period was largely peaceful against expectations in certain quarters.
"I must take this opportunity to extend my most heart- felt and sincere congratulation to the people of Nigeria for choosing yet again to walk the more difficult path.
"To look past the challenges of a difficult election and to embrace the learnings that come from a maturing democracy.
"What has set Nigeria apart from any other nation in our continent today is that its leaders have chosen to disappoint naysayers and the prophets of doom.
"They have opted instead, to express their political differences within the framework of a constitutional order," he said.
Also speaking, the Vice President- elect, Sen. Kashim Shettima, said that democracy guaranteed freedom.
According to Shettima, the survival of democracy, however, is dependant on the use of that freedom.
"It is forever a work in progress. I hold precious our democracy because an imperfect democracy is better than the most perfect dictatorship.
"It is more just; more humane and even more productive," he said.
He said that the Bola Tinubu administration would do all it could to forge unity and inclusiveness in governance.
The Secretary to the Government of the Federation (SGF), Boss Mustapha, said that Nigeria had experienced deep divisions and polarisation exacerbated by politics, poverty and illiteracy over the years.
According to Mustapha, who also chairs the Presidential Transition Council, politics, ethnicity and religion and other fault lines strained the fabric of the society, threatening the very essence of its unity.
"We acknowledge the damaging influence of hate news and propagation of divisive narratives which have sown seeds of discord and hindered our socio-political development," he said.
He said that the theme of the inauguration lecture was of paramount significance.
"It is our firm believe that by embracing this theme, we can transcend the existing fault lines and forge a renewed sense of common purpose, understanding and shared responsibility among Nigerians," he said
JOIN OUR PULSE COMMUNITY!
Recommended articles
Confusion as Uba Sani commends Kaduna tribunal for upholding his election
Obaseki accepts Shaibu's apology 1 week after he begged for forgiveness
FG sets ₦75bn intervention fund to support MSMEs
BREAKING: Tribunal sacks Uba Sani, declares Kaduna governorship election inconclusive
Military neutralises 191 terrorists, apprehends 184 in 2 weeks - DHQ
Tribunal upholds Umo Eno's victory in Akwa Ibom
FG declares Monday public holiday to mark 63rd Independence anniversary
EFCC sensitises gold merchants in Zamfara against money laundering
Workers protest as Minister Umahi locks them out of office
I still love guys - Super Falcons' Michelle Alozie reacts to lesbian rumour
Heartbreak for Nigeria as AFCON 2027 bid slips away to East African rivals
Victor Boniface or Harry Kane: Who has had the better Bundesliga start?
Steph Curry: NBA star lists Nigeria's Burna Boy and WizKid among favorite music artists
Controversy as Super Falcons' Michelle Alozie unveils her 'female lover'
AFCON 2027: Algeria hands Nigeria a major boost