Sweet potatoes and its nutritional values
Sweet Potatoes are the most nutritious vegetables.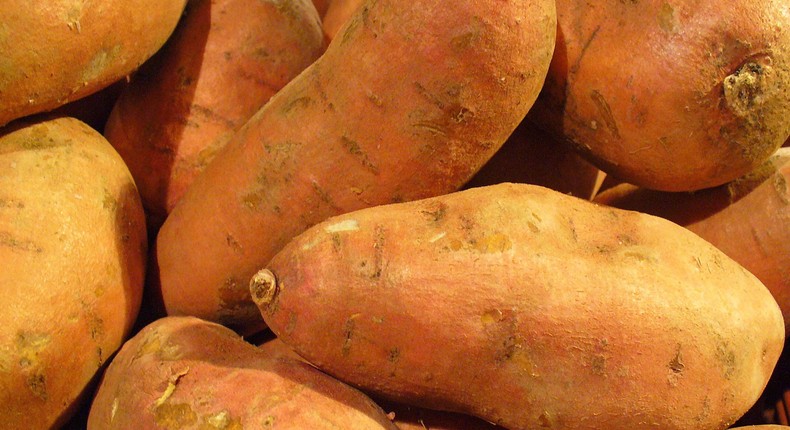 It has a variety of sweet potatoes which was developed through conventional breeding in 1995.
-The utilization of sweet potatoes roots in the alleviation of Vitamin A deficiency (VAD) in countries like Guatemala was recorded in the early as in the mid-1990s. Sweet potatoes have been promoted for their calorie-rich value, but the SP has been greatly recommended for the reduction of VAD in developing countries such as Asian countries.
Originally in Sub Saharan Africa, great reliance was on white-fleshed or yellow-fleshed that has established markets; however, the beta-carotene content of both the white and yellow-fleshed sweet potato roots is low as compared to the SP. Over forty cultivars of SP roots have been introduced in Africa.
- The B-Carotene content of SP varieties vary depending on the intensity of the orange color on the orange color on the flesh, with lighter orange flesh coloured varieties having lower B-carotene levels.
- SP roots can be exploited for their calorie-rich property to alleviate protein-energy malnutrition (PEM), but has been recommended for fighting VAD. SP roots are richer in provitamin A carotenoids than other sweet potato varieties including cream and white fleshed varieties.
In another study, it was established that the acceptability of SP roots is not only positively influenced by appealing color and taste, but also a higher dry matter content.
Utilization of orange fleshed sweet potato tubers have been utilized as food in their flesh form after cooking, as flour and in the grated and mashed (commonly known as puree) forms. SP flour has been used locally at domestic level and in industrial production of bakery products. Some of the bakery products in which SP flour is incorporated as an ingredient are cakes, bread, muffins and buns. Mashed SP has also been used for flour substitution in golden bread. SP is being promoted as a nutrition intervention to tackle VAD and food insecurity in many countries. In industrial production, SP has been used to produce products such as chips, crisps, flour, puree, juice, bread and other bakery products. In Asian countries, SP pickles and cubes are produced commercially and are known for their B-carotene rich property.
Production and use of SP puree as functional ingredients in food processing has been done for over three decades in the United States (US). SP roots have also been exploited in stock feeds as starch extraction in Asian extraction is limited as the dry matter content of these roots are quite low.
- Sweet Potato puree is incorporated into bread as a functional ingredient to increase the provitamin A composition of this bread. The substitution of wheat flour with SP puree in bread baking has been done at varied levels in different studies. The use of SP to substitute wheat flour in bread is aimed at increasing the uptake and utilization of SP roots. The commercialization of the SP puree bread creates a market for the SP roots; this trickles down to improve the rural economies of households involved in the production of SP roots.
JOIN OUR PULSE COMMUNITY!
Recommended articles
4 African countries are responsible for 70% of the chocolate in the world
2023 World Oral Health Day: Colgate partners NYSC for nationwide community outreach
Fashion and Style Trends in Nigeria: A cultural melting pot
How to stop 'catching feelings' and get over a crush
How to cope with the loneliness that comes with adulthood
Wiz kids: 5 Nigerian child geniuses and their amazing feats
Who wore it better? Erica Nlewedim, Ini Dima-Okojie in a corset two-piece
Xiaomi launches Redmi Note 12 series in Nigeria inspiring users to "Live Vivid"
The style evolution of Davido: From teenage star to Timeless fashion icon
5 reasons you'd be lucky to date a woman with a higher s*x drive than you
For women: Here are 4 kinky ways to arouse your man
Top 5 Nigerian queens of luxury and the soft life
Victor Osimhen: Where should the Super Eagles striker go this summer?
Peseiro chasing Rohr's feat as the Super Eagles resume campaign
Nigerian sensation Gift Orban wanted by AC Milan and Napoli