'The women knew what they came to do' - Prostitution ring leader
A man arrested for allegedly luring women to work as prostitutes in Lagos says the women knew the job before coming.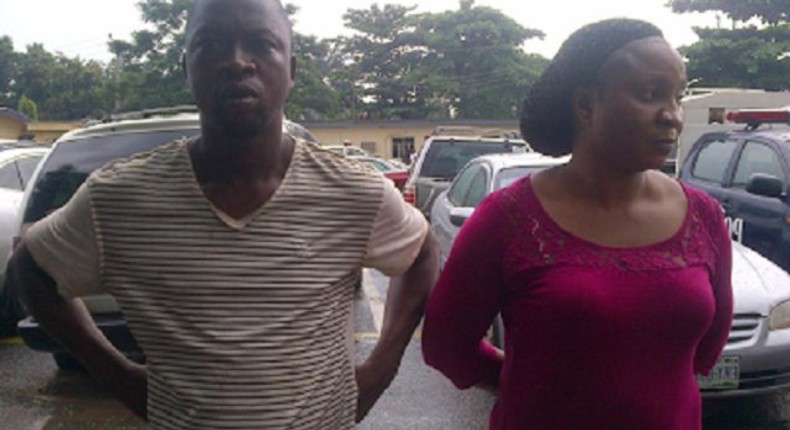 A Lagos State-based hotelier arrested for recruiting young ladies from different parts of the country and
Punch reports that the 33-years-old man, Victor Obano who runs a brothel in the Ijegun area of the state, was arrested after a victim of the prostitution ring identified as Elizabeth, reported to the police that Obano brought her to Lagos from her home in Cross River State with the promise of giving her a job but instead, forced her into commercial sex work.
The State Commissioner of Police, Fatai Owoseni had revealed that Obano had  seized the phone of the victim for refusing to work for him as a prostitute and the lady reported the matter to the police.
During interrogation, Elizabeth allegedly said:
"When oga (Obano) met me in Calabar, he promised to get me a good job in Lagos if I agree to come with him.
I thought it would be a waitress job and accepted to come with him but when we got to Lagos, he took me to the hotel and told me I was going to sleep with men to make money.
He said I was to pay him N2,500 for the room every day. I did not want to do it but he kept threatening to kill me if I refused, so I had to start sleeping with the men that used to come to the hotel."
But the suspect countered what Elizabeth said, insisting that the ladies knew what they were coming to do before agreeing to come with him.
"I met the lady three months ago, when I traveled to Calabar for a friend's burial, through a friend who told me she had a problem taking care of her two children. She begged me to bring her to Lagos so that she could work and take care of them.
Before we left Calabar for Lagos, I had told her what she would be doing when we get to Lagos and she agreed."
"The first money she made, she sent it back home for the upkeep of her children, but suddenly she was not concentrating on the hustling anymore, she started going out with some boys in my area which annoyed me and I seized her phone."
Owoseni has vowed that the suspect will be charged to court soon while the brothel will be shut down.
JOIN OUR PULSE COMMUNITY!
Recommended articles
Africa's richest woman Isabel Dos Santos finds herself deep in another financial scandal
BREAKING: No more fuel subsidy - President Tinubu
Buhari confers national honours on Emefiele, Remi Tinubu, Terry Waya, others
Top 5 Nigerian chefs with the best Instagram content
FULL TEXT: Inaugural speech of President Bola Ahmed Tinubu
Net worths of Africa's richest people in the top 500
Top 10 richest mineral-producing countries in Africa
Veteran Nollywood actor Adewale Adeyemo is dead
Top 10 African cities where it is most expensive to get food