Thief caught stealing on Arik Air flight (Video)
A gang of thieves who specialize in robbing passengers during flights has been arrested after Arik Air put up a special security measure.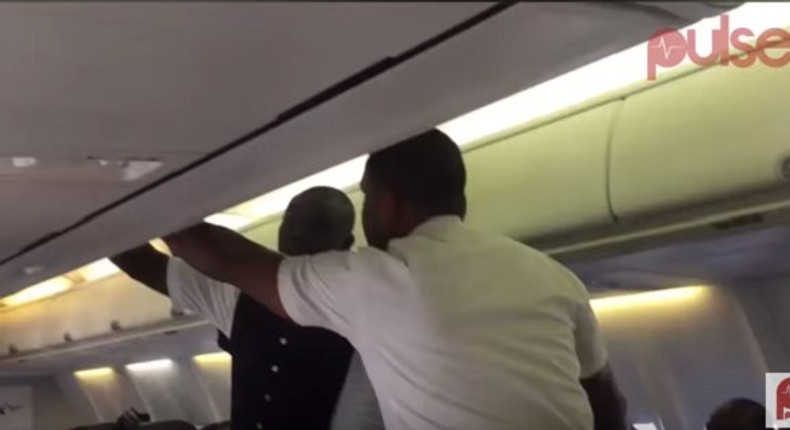 It was a bad day for a gang of thieves who specialize in
According to a Nigerian blogger and social media expert Japhet Omojuwa who was on the flight on the morning of Friday, May 19, 2017, one of the thieves, an elderly man, was caught red handed this morning stealing from passengers on the flight by eagle-eyed security officials of the airline.
Omojuwa who posted a series of tweets on the incident, the suspect was nabbed due to a new security measure put in place by the airline following several complaints by customers on how their money and other items had gone missing on their flights.
To stem the tide, Arik Air decided to place spies on their flights and it yielded fruit. The spy was said to have joined the flight as a regular passenger so as to observe what was going on.
As the plane took off and most of the passengers began to doze off, the criminal struck by swiftly transferring stuff from another passenger's luggage which was on the deck into his own bag.
The security spy allowed him to finish with the theft before calling the attention of Arik staff aboard the flight and the thief was apprehended.
In the video captured by Omojuwa, the passengers and Arik staff are seen questioning the suspect while he vehemently denied the allegations and tried to hide his face from the camera.
Some people on the flight are heard saying the thief did not operate alone as he probably had the help of others and were heard asking him to name his partners but he kept saying he was not a thief as it was not written on his forehead.
It was gathered that before the plane landed in Abuja, airport security officials were notified and when the plane touched down, uniformed men quickly rounded up the thief who reportedly fingered another man in the crime as they were later seen being escorted away.
See the tweets from Omojuwa.
JOIN OUR PULSE COMMUNITY!
Recommended articles
Twerking Wendy Shay threatens to snatch someone's man with her slim waist in 'wild' video
4 side effects of being a virgin for too long, according to research
Doctor and nurse suspended for having sex, moaning and disturbing patients who're in pain
Police save little boy who hid inside aeroplane's engine to travel abroad (video)
For men: 5 foods that can help you stay erect and sustain stronger erection
Women, this is why you should learn to initiate sex more in your relationship
6 symptoms of stomach ulcer
Ayisha Modi goes naked on IG as she flaunts her newly 'acquired' body (VIDEO)
You should not do any of these while visiting the Oba's palace in Benin