Electronics giant wins coveted Italian award
LG Electronics (LG) has been awarded the coveted Compasso d'Oro International Award for the revolutionary refrigerator design of the company's Dual Door-in-Door™ refrigerators.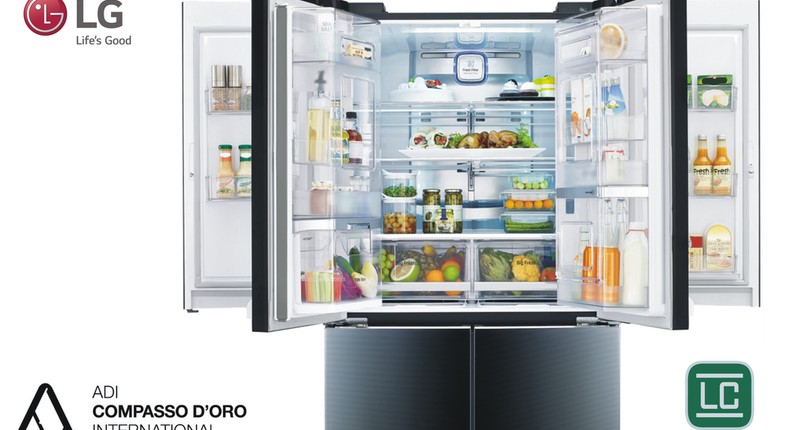 The company took home the top prize in the
The oldest and most recognized award of its kind in Europe, the Compasso d'Oro (Golden Compass) was established in 1954 to celebrate the products that were made in Italy.
Hosted exclusively by Associazione per il Disegno Industriale (ADI), the theme for this year's award was Design for Food and Nutrition.
The 2015 competition was the first time the award was open to competitors from outside Italy, making LG among the first foreign winner of Compasso d'Oro International. Entries were evaluated on three criteria: Innovation, Communicative Quality and Sustainability. The official award ceremony took place on December 2, 2015 in Milan.
Commenting on this feat, General Manager, Home Appliances division, LG Electronics West Africa operations, Mr. Hyunwoo Jung said: "we are delighted to be receiving this international recognition for the Dual Door-In-Door Refrigerator. Powered by LG's Inverter Linear Compressor, the Dual Door-in-Door™ makes use of LG's award-winning door-inside-refrigerator-door concept, doubling convenience over its single Door-in-Door™ counterparts. This energy efficient product is primed to be a durable, long-lasting addition to any kitchen".
LG's Door-in-Door concept has revolutionized refrigerator design, giving users quick access to frequently sought food items, while simultaneously reducing cold air loss. LG took the initial Door-in-Door concept one step further by adding another Door-in-Door compartment to double the convenience.
Door-in-Door technology reduces the amount of cold air loss by up to 47 percent and with the addition of a second independent Door-in-Door compartment, cold air loss is further reduced.
But the design innovation isn't just on the outside. Various compartments in the Dual Door-in-Door™ refrigerator make organization very easy.
The Family Space compartment can be accessed from the outside at the push of a button and is perfect for frequently accessed items such as snacks and drinks. The Cooking Space on the left can be opened with an Easy-Open Handle that is hidden by the bottom of the door trim and holds essential cooking ingredients such as chopped vegetables, condiments and sauces.
Expertly crafted, LG's Dual Door-in-Door™ refrigerator also features contour-processed, tempered glass over a curved glass surface. Black patterned finishing provides a stylish design that is both aesthetically pleasing and leaves the outside fingerprint and smudge resistant so it always looks its best.
LG's Dual Door-in-Door™ also utilizes LG's revolutionary Inverter Linear Compressor which enables the refrigerator to consume 32 percent less energy and produce 25 percent less noise. Employing a linear piston drive instead of a conventional reciprocating drive, LG's advanced Inverter Linear Compressor generates less internal friction than other compressor systems.
The reduction in friction results in lower energy requirements and noise production as well as greater reliability and durability for the compressor due to the reduction of friction points. The Inverter Linear Compressor creates an optimal temperature balance inside the refrigerator, helping extend the amount of time that food stays fresh.
"We are humble and honored to be one of the first international companies to receive this prestigious honor and recognition" said Noh Chang-ho, head of LG Electronics' Corporate Design Center. "Receiving the 2015 Compasso d'Oro International Award is a testament to LG's design leadership in the home appliance industry."
This is a feature by LG Electronics.
JOIN OUR PULSE COMMUNITY!
Recommended articles
Top 10 African countries with the highest GDP projections for 2023
Top 5 economies in Sub-Saharan Africa to watch out for in 2023, according to IMF
Tanzania joins the list of African countries to sign an oil deal in the new year
What went wrong with BVAS in the Osun governorship election?
Shocking IMF report reveals Angola and Ethiopia to surpass Kenya as top economies in Sub-Saharan Africa
20 businesses you can start with 20k according to Lagos entrepreneur
Polytechnic management investigates female student who gloated on TikTok
Osun: Adeleke breaks silence, reveals next move after sack
Nigerians react as Nengi says she suffers from OCD