A late-season wildfire ravaged the town of Paradise in northern California overnight, forcing its nearly 27,000 residents to flee for their lives, officials said.
Residents posted harrowing videos to social media of driving through tunnels of swirling smoke and orange flames to escape the inferno in the Butte County town north of Sacramento.
Fanned by strong winds, the so-called "Camp Fire" has burned 20,000 acres (8,093 hectares) and has not been contained, the California Fire Department (Cal Fire) said.
Authorities issued mandatory evacuation orders for tens of thousands of people in the scenic area in the foothills of the Sierra Nevada mountains, including some residents of Chico, population 93,000, near Paradise.
Acting California Governor Gavin Newsom declared a state of emergency to provide assistance to the fire-hit areas.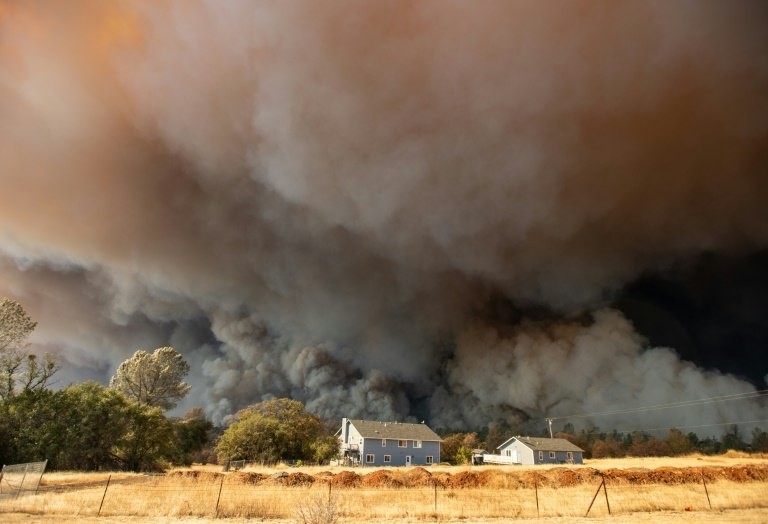 A Cal Fire spokesman said around 1,000 buildings were believed to have been destroyed in Paradise. Among those evacuated were all of the patients at the Feather River Hospital in Paradise.
More than 2,200 firefighters were battling the blaze backed up by helicopters and water tankers.
Butte County Sheriff Kory Honea told the Chico Enterprise-Record that there were reports of multiple casualties and the authorities were trying to verify how many.
"This was a rapidly moving fire," Honea said. "And it moved very, very quickly from a rather remote area to populated areas."
Woolsey and Hill fires
"The whole lower side of Paradise is totally engulfed in flames right now," Kevin Winstead, a resident of nearby Magalia, told KIEM TV. "All of it is engulfed in flames right now.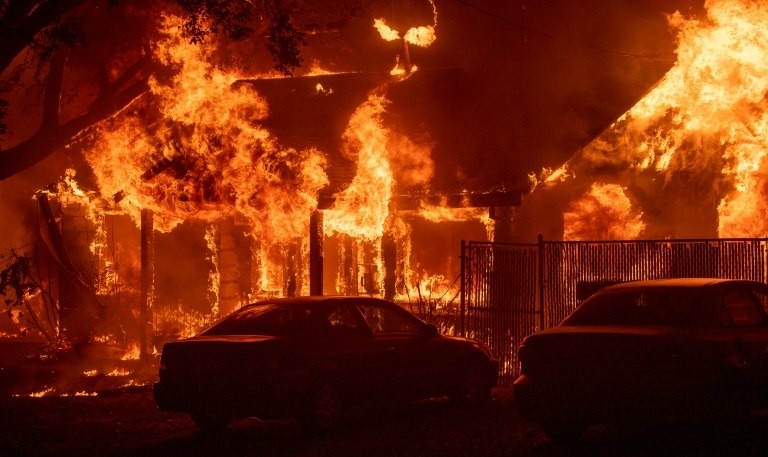 "Not one home will be left standing," he said. "I'm devastated."
"We're just hoping that our brand new home that we were hoping to move into tomorrow is not burned to the ground," Winstead told KIEM TV. "We're kind of all shaking right now."
A separate fire, the "Woolsey Fire," in Ventura County sparked evacuation orders for parts of the city of Thousand Oaks, where a Marine Corps veteran shot dead 12 people in a country music bar on Wednesday night.
Some of the first responders who rushed to the scene of the second mass shooting in less than two weeks in the United States were also helping out with fire-related duties.
The Ventura County Fire Department said the blaze had burned around 8,000 acres (3,237 hectares) and evacuation orders were issued for some 75,000 homes in Ventura County and neighboring Los Angeles County.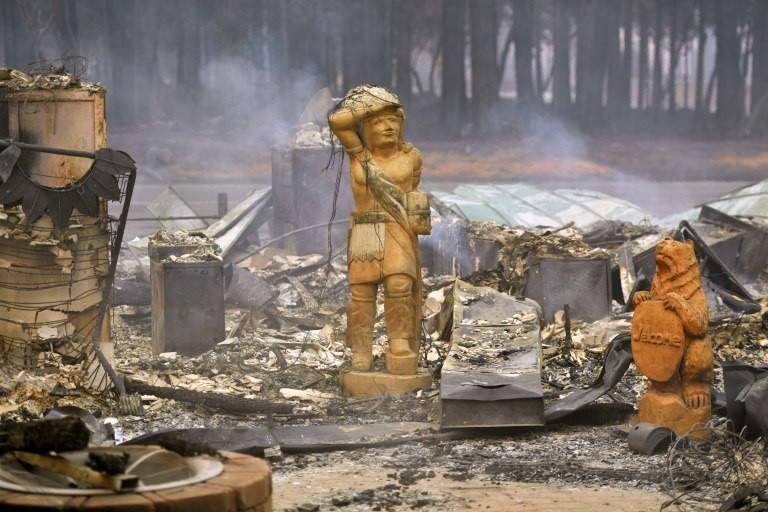 "It is a critical that residents pay close attention to evacuation orders," the Los Angeles County Fire Department said on Twitter. "This is a very dangerous wind driven fire."
It said the "Woolsey Fire" has jumped Highway 101 near the town of Chesebro and portions of the main coastal north-south artery have been shut down, triggering mandatory evacuations for the area south of the highway including much of the city of Malibu.
Another blaze, the "Hill Fire," was burning to the west of the "Woolsey Fire."
Firefighters said the strong Santa Ana winds with gusts of up to 50 miles per hour (80 kilometers per hour) were hampering efforts to control the blazes.