4 Key elections to watch out for in 2017
Here are 4 African elections to watch out for in 2017.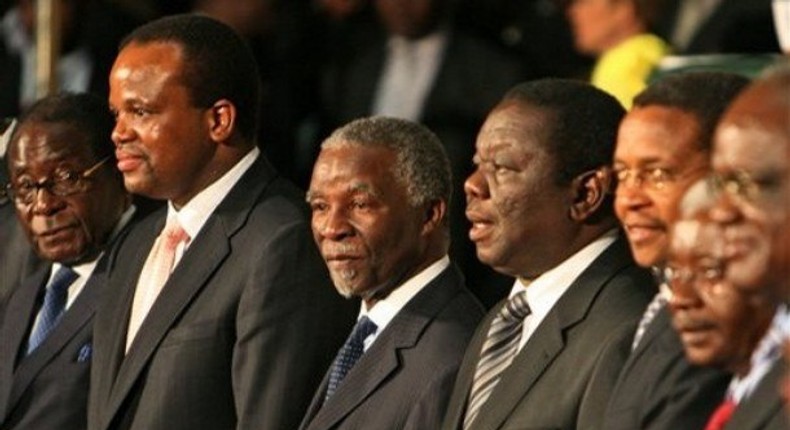 Kenyans voted overwhelmingly for a new constitution, largely touted as one of the most progressive in 2010.
This ushered a new constitutional dispensation that brought forth devolution that ensured key functions such as health, public works are brought closer to the people away from control of the national government. Under Article 10 of the constitution, the country was divided into 47 counties.
Kenyans will go to the ballot on August 8, 2017 to vote for governors who are head of the county governments, senators, Members of Parliament, Women Representatives and Members of the County Assemblies.
The two main parties seeking to fight are the ruling Jubilee Party headed by the incumbent President Uhuru Kenyatta and his deputy William Ruto and the opposition Coalition for Reforms and Democracy (Cord) led by former Prime Minister Raila Odinga, former Vice President Kalonzo Musyoka and Moses Wetang'ula.
They have recently been joined by another former Vice President Musalia Mudavadi. During the last general elections in 2013, Uhuru Kenyatta garnered 6,173,433 votes representing 50.51 percent of the popular vote thereby avoiding a run-off second round of voting.
Raila Odinga came in second with 5,340,546 votes representing 43.70 percent of the vote.
Liberians head to the polls on October 10, 2017 to elect a new president and House of Representatives.
The President is elected using the two-round system, while the 73 members of the House of Representatives are elected by first-past-the-post voting in single-member constituencies.
The incumbent President Ellen Johnson Sirleaf has decided not to seek re-election after being in office since 2006.
Her absence will provide a golden opportunity for former FIFA World Player of the Year George Weah to become the next president of the West African nation.
Weah unsuccessfully ran for president in the 2005 election, losing to Ellen Johnson Sirleaf in the second round of voting while he ran for vice president in the 2011 election.
He was later elected to the Senate in 2014.
Others taking a stab at the presidency are vice president Joseph Nyumah Boakai, former foreign minister Augustine Ngafuan, former rebel leader Prince Johnson and businessman Benoni Urey.
Rwandans will go to polls on August 4, 2017 to elect the Head of State in the country's third multiparty presidential elections.
President Paul Kagame, is seek a third term in office after the approval of constitutional amendments that allows him to run again next year. He was originally limited to two terms in office.
Part of the amendments was the shortening of presidential terms from seven to five years, although this will not come into effect until 2024.
The move is likely to see Kagame to stay in power until 2034. He can run for another seven-year term in 2017, followed by two five-year terms.
In a televised address in January soon after the referendum, Kagame said: "You requested me to lead the country again after 2017. Given the importance and consideration you attach to this, I can only accept. But I don't think that what we need is an eternal leader."
Kagame and his ruling Rwanda Patriotic Front (RPF)-Inkotanyi party are expected to win the 2017 elections as opposition voices are limited, with only one recognised opposition party, the Democratic Green Party of Rwanda (DGPR). Others are in exile.
Kagame has been president since 2000, but he has effectively been in control since his forces marched into the Rwandan capital, Kigali, to end the 1994 genocide.
Somaliland will hold its much awaited presidential elections in March 2017.
The elections were to be held in November, but were postponed for a third time.
The country's elections are unlike no other in the world, representing instead a hybrid of traditional and modern, selection and election, fierce debate and pragmatic compromise.
Members of the 275-seat Lower House of parliament and the 54-seat Upper House elect the president, according to the country's Provisional Federal Constitution.
The president then thereafter appoints a prime minister who sets up a cabinet.
As universal elections are not yet possible in Somalia, 14,025 clan representatives who form part of an Electoral College elect the 275 members of the Lower House of parliament while regional parliaments elect the 54 members of the Upper House.
According to the country's National Leadership Forum, 30% of seats in the Upper and Lower Houses will be reserved for women candidates. Also, the 51 delegates voting for each Lower House parliamentarian will need to be made up of at least 30% women.
Incumbent President Ahmed Mohamed Silanyo will not be running for a second term.
JOIN OUR PULSE COMMUNITY!
Recommended articles
Ebonyi doesn't observe weekly 'sit-at-home' and it has helped – NSCDC
ASUU strike: Nasarawa University directs students to return to school
Fire Service recovers 2 bodies from Ilorin river
Google celebrates Nigeria's Independence day with a doodle
Independence Day: Akeredolu pardons 16 inmates
Borno holds first Independence parade in 12 years of insurgency
Asaba agog as Obi supporters take over major roads
Police arrest suspected 'one chance' syndicate in Lagos
Nigeria @62: Jonathan, Osinbajo, others join Buhari to mark anniversary
Get our Top Stories delivered to your inbox