Teenager's abductor charged to court
Yinusa was arraigned before the Federal High Court sitting in Yenagoa, Bayelsa State today, March 8, 2016.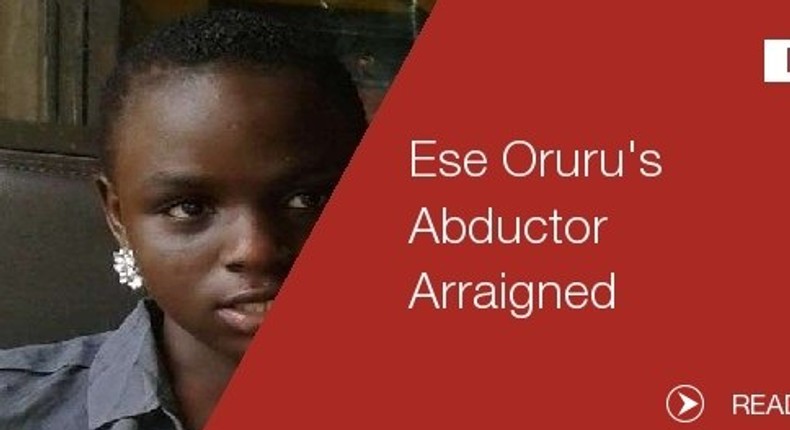 Yinusa was arraigned before the Federal High Court sitting in Yenagoa, Bayelsa State today, March 8, 2016, according to Vanguard.
He is facing charges of abduction and unlawful carnal knowledge among others.
Yinusa is believed to have abducted the young girl from Bayelsa in August 2015 after which he took her to Kano State.
Ese was eventually rescued, after widespread media outrage, and returned home on March 2.
The abduction has been surrounded by much controversy due to the involvement of the Emir of Kano, Sanusi Lamido Sanusi. Earlier Media reports had it that Yinusa was being protected by persons within the Emir's palace.
The claim was further strengthened after Arase said that he couldn't save the girl without Sanusi's intervention. The Emir however told Punch that he had ordered that Ese be returned home since September 2015.
"I ordered her repatriation since September 2015 through the office of the Assistant Inspector General of Police in charge of Zone 1. But to my surprise, the issue is still in between the Sharia Commission, Hisbah (religious police) and the Police,"Sanusi said.
"Ese is under aged and she can't be married off as an under aged. Every Muslim also knows that marriage can't be without guidance. She must be taken back to her parents; she can only marry when she reaches the age of 18 years," Sanusi added.
Ese also reportedly said that she wasn't abducted but went with Yinusa of her own accord.
"No. I am not abducted by anybody," the teenager supposedly said in an audio recording obtained by Premium Times. "My name is Aisha Chuwas. I am 17-year-old. I came here to be a Muslim and I will stay here," she added.
Upon returning home however, Ese is said to have revealed that she couldn't remember how she got to Kano. The teenager is also said to be five months pregnant.
Watch video of Nigerians reacting to Ese's abduction below:
JOIN OUR PULSE COMMUNITY!
Recommended articles
Sanusi doubles down on allegation against Ortom over Nasarawa bombing
PoS surcharge: Operators allege bank officials sell cash to them
Chaos in Ibadan as residents protest over naira and fuel crisis
Buhari begs Nigerians to give him 7 days to resolve new notes crisis
What is a run-off election and how is it conducted?
Ortom accuses Sanusi, other Fulani elites of plotting to eliminate him
APC Governors meet Buhari
So far, Buhari is giving right signal for credible elections– Organisation
We will end brain drain in medical profession – Makinde