'Buhari only fighting symptoms of corruption,' Ex-CBN Gov says
The economist noted that the Nigerian economy will need to be totally reset.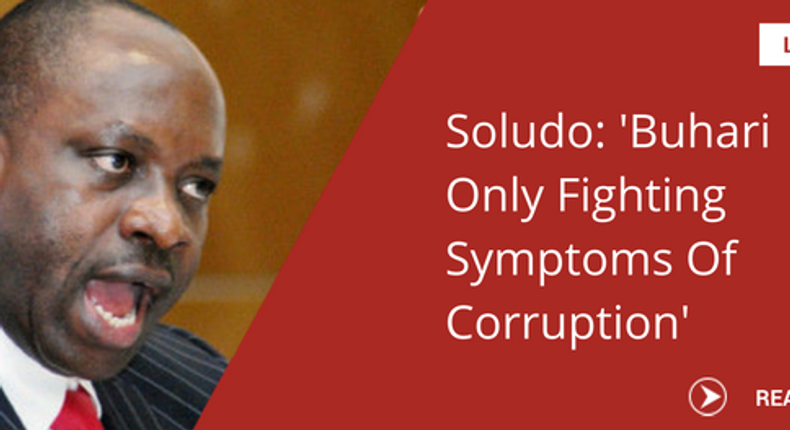 Former governor of the Central Bank of Nigeria (CBN),
Speaking on Thursday, August 25, at the fourth "Progressive Governance Lecture Series" in Kaduna State, Soludo said the current anti-corruption war  would not be successful and enduring until it is tackled from the systemic level.
Soludo said: "I feel we are fighting corruption at the symptomatic manifestation level, at the transaction level. For the fight against corruption to become enduring and to achieve a purpose, we need to get to the systemic level.
"The way we are going about it is fantastic. You finish, you close here, the other place is leaking. The system, as currently structured, you can only fight the symptoms."
The former CBN boss, who spoke on the topic 'Fragile state with a failing economy, making progressive change work for Nigeria', said the All Progressives Congress needs to move from a coalition of political parties that won election to a coalition for governance.
"There seems to be a potential conflict with what the people want and what the country needs to survive sustainably. The economy is stuck on a slippery muddy length today with a fragile state," he said.
"What will be the seven pillars or three pillars that the APC will show to Nigerians and say, we came and we put these pillars there and in the next 20 years it will take you out of the woods?
"Where are the out-of-box ideas for use?  The challenge for APC, as I see it, is moving the coalition to grab power to a governing team. I commiserate with you because this will be the first time that a government, under a democracy, will be required to structurally transform but without external anchor in terms of IMF conditionality etc."
Soludo is, however, optimistic that Nigeria will be great again even though the current circumstances makes the future look bleak.
"Let me say that despite all the odds that Nigeria is passing through today, I still see hope, I still see greatness that awaits Nigeria. The collapse in oil prices is a blessing and an opportunity for Nigeria for a new beginning.
"This is predicated on fact that I believe that the trajectory that we had gone through before was not sustainable one and therefore, with the collapse of oil prices, it is a clarion for us to press the reset button and start a fresh on a more sustainable ground. So I see that as a blessing," he stated.
Soludo added that Nigerians are pressurising the government to deliver quick results within a short term,when what the economy needs are long term solutions.
JOIN OUR PULSE COMMUNITY!
Recommended articles
APC brings forward date for presidential primary, others
EFCC arrests ex-MD of NDDC, Ekere over alleged N47bn fraud
New NYSC D-G assumes office, promises to sustain founding fathers' vision
APC Governorship aspirant in Plateau dumps party
Thugs disrupt factional SDP meeting in Kwara
Appeal Court president inaugurates electoral judicial manual committee
2023: Adopt Jonathan as APC consensus candidate – Group tells APC
Buhari to decide fate of Ngige, Sylva, others who shelved political ambition
FG suspends Accountant-General, Idris over alleged N80bn fraud