I will keep all my promises – President says
Buhari also said his administration has made provisions for immunisation of children against killer diseases and the school feeding project.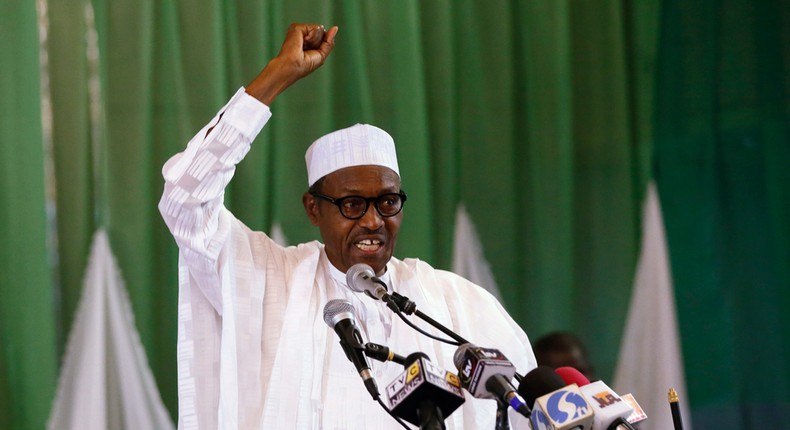 Mr. President also told Nigerians that he will fulfil all the promises he made during his electoral campaign.
He said this during his maiden Children's Day speech on Thursday, May 26, 2016.
Buhari said "I seize the opportunity of this year's celebration, which comes just two days before the first anniversary of the present administration, to reassure our children and youth that we remain fully committed to fulfilling our promise of a better Nigeria for all of our people.
"On this happy occasion for our children, I reaffirm my belief that it is the right of every Nigerian child to have access to quality and affordable education as well as health care and other basic necessities for a good life, in a peaceful and secure environment."
The President also gave the assurance that his administration will always work towards the betterment of Nigerians, despite the economic challenges the country is facing.
He also told Nigerians that his administration will do all it can to make sure the Chibok girls return safely to their families, while expressing joy over the release of two of the abductees.
Buhari said "It is a thing of joy that on this year's Children's Day, we can also celebrate the safe return of one of the Chibok girls, Amina Ali Nkeki, and many other abducted women and children who have been freed from the clutches of Boko Haram by our gallant troops.
"As peace gradually returns to the insurgency-ravaged North-East states, the Federal Government  will continue to work diligently to ensure the rapid and full reintegration and rehabilitation of all internally displaced persons, including orphaned children in the region."
"The good health and well-being of Nigerian children remain a top priority on our agenda for national development and we have demonstrated our strong commitment in this regard with the allocation of N12.6bn in the 2016 budget for vaccines and programmes to prevent childhood killer diseases such as polio, measles and yellow fever.
"Other measures in the 2016 budget, such as the school feeding programme for children at a cost of N93.1bn, will ensure that more children go to school and enjoy the fun of learning and growing together with their peers," the President said.
undefinedhas also called on him to fulfil his campaign promises.
See Pulse Photo-News gallery below.
JOIN OUR PULSE COMMUNITY!
Recommended articles
PDP primary heavily monetised, Hayatu-Deen laments as he quits presidential race
Why Bola Tinubu & Atiku Abubakar cannot be defeated in their parties
PDP: Atiku, Saraki, Tambuwal fail to reach consensus; Wike's chances brighter
APC: Election cancelled, party chairman arrested in Lagos for alleged illegality
Katsina APC Governorship aspirant accepts defeat in good faith
Another PDP presidential aspirant, Hayatu-Deen withdraws from race
APC Primaries: Faleke wins Ikeja Federal Constituency seat for 4th term
Senator Folarin beats 2019 flag bearer, others to Oyo APC governorship ticket
Ganduje helps Kayode Fayemi rally APC delegates