Read today's newspaper headlines [Tuesday, August 29, 2017]
Find out what is making headlines all over the country from the covers of The Guardian, Vanguard, The Punch, ThisDay and BusinessDay.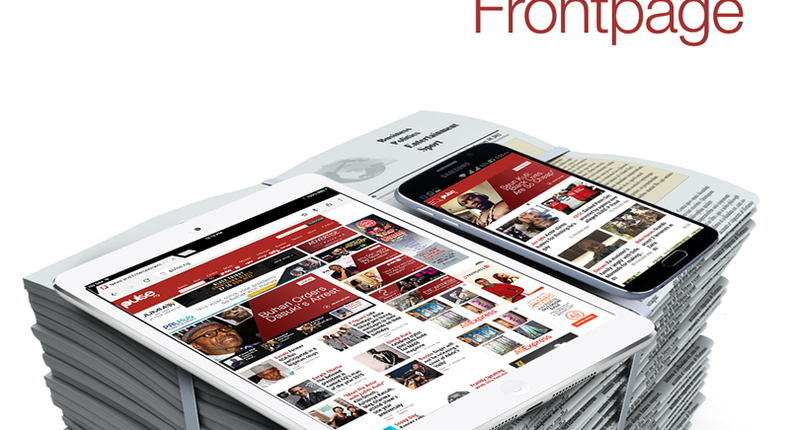 For today, Tuesday, August 29, 2017:
Governors demand relocation of oil firms' head offices
Governors of the South-East and South-South states and other stakeholders have urged the Federal Government to prevail on multinational oil and gas corporations to relocate their corporate headquarters to their areas of core operations in the two regions.
Obaze wins PDP governorship primary in Anambra
Former Secretary to Anambra Government, Mr Oseloka Obaze, on Monday emerged Peoples Democratic Party (PDP) governorship candidate for the Nov. 18 election in the state.
Conveyor belt operators' strike grounds flights at Lagos airport
Flights at the international wing of the Murtala Muhammed Airport, Lagos were for several hours disrupted yesterday following a strike action by operators of the belt conveyor to protest against alleged unpaid salaries.
__________________________________________________
Food prices hit 8-yr high, as Buhari tasks economic team
The National Bureau of Statistics, NBS, stated in its latest report released yesterday that food price pressure continued into July as all major food sub-indexes increased, with food inflation in the country rising by 20.28 per cent Year-on-Year (YoY) in July.
Strike: FG, ASUU meet today
THE Federal Government and the Academic Staff Union of Universities,  ASUU, will again meet today in a bid to resolve the ongoing strike embarked upon by the university teachers two weeks ago.
Court orders final forfeiture of N7.6bn recovered from Diezani
A Federal High Court in Lagos, yesterday, ordered the final forfeiture of N7.6 billion being loot recovered from a former Minister of Petroleum Resources, Mrs Diezani Alison-Madueke.
__________________________________________________
B'Haram: US sells N181bn warplanes, weapons to Nigeria
The Headquarters of the United States Department of Defence, the Pentagon, has informed the US Congress of the sale of 12 Super Tucano A-29 ground attack aircraft and weapons to Nigeria to fight the Boko Haram insurgency.
FG withdrew N359.39bn from ECA for fuel subsidy - FRC
The Federal Government withdrew the sum of N359.39bn from the Excess Crude Account in 2015 to fund the payment of petroleum products subsidy in 2015, the Fiscal Responsibility Commission has said.
We've reached out to US on stolen funds' repatriation – Osinbajo
Vice-President Yemi Osinbajo has said the present administration has reached out to the United States government to step up its assistance in ensuring that corrupt officials do not have a safe haven in the US for their loot.
__________________________________________________
Buhari Weighs Options as Cabinet Reshuffle Tops Agenda
A mid-term cabinet reshuffle has topped President Muhammadu Buhari's agenda since his return from the United Kingdom (UK) nine days ago and may have influenced his decision to defer last week's meeting of the Federal Executive Council (FEC), THISDAY has learnt.
Pentagon Notifies US Congress of Sale of 12 Fighter Aircraft, Other Weapons Worth $593m to Nigeria
The U.S. Department of Defence has notified its Congress of the sale of 12 Super Tucano A-29 planes and weapons worth $593 million to Nigeria for the fight against Boko Haram.
EFCC: Alison-Madueke's Extradition Must Follow Due Process
As calls for the extradition of former Minister of Petroleum Resources Mrs. Diezani Alison-Madueke to Nigeria gathers pace, the Economic and Financial Crimes Commission (EFCC) yesterday said due process must be followed in demanding for her return.
__________________________________________________
THE BUSINESSDAY NEWSPAPER
Meat, bread prices soar, as inflation trends down
Food price pressure continued into July in Nigeria, as all major food sub-indexes of the consumer price index (CPI) increased, despite the overall falling inflation trend.
Buhari receives briefing on state of economy
Presidency Muhammadu Buhari on Monday declared that he is pleased with the level of progress made on different fronts of the economy, the Presidency said.
Lessons for Nigeria, as India successfully confronts terrorism risks
The clear lack of capacity for terrorism insurance in the Nigerian market and growing incidence of the risks, amidst the negative impact on business and the economy have left the local insurance market with no option but to learn from Indian market's experience.
JOIN OUR PULSE COMMUNITY!
Recommended articles
Thugs turn Kaduna North senatorial primary election of APC bloody
Wike yet to congratulate Atiku despite pledging to support PDP Primaries winner
Presidency: You'll be a worthy opponent to me, Tinubu congratulates Atiku
Breaking: Atiku clinches PDP Presidential ticket
Tambuwal drops out of PDP presidential race, endorses Atiku
How poor, out-of-school children gain education with N100 in the FCT
Southern Kaduna Christian Leaders urge communities to defend their land against terrorists
Group tackles INEC over extension of party primaries' deadline
Respect peoples' choices at the polls - Buhari