Fast and Furious actress, Michelle Rodriguez, tries out 201 mph model [VIDEO]
Check out Fast and Furious actress, Michelle Rodriguez, trying out the Jaguar F-Type SVR.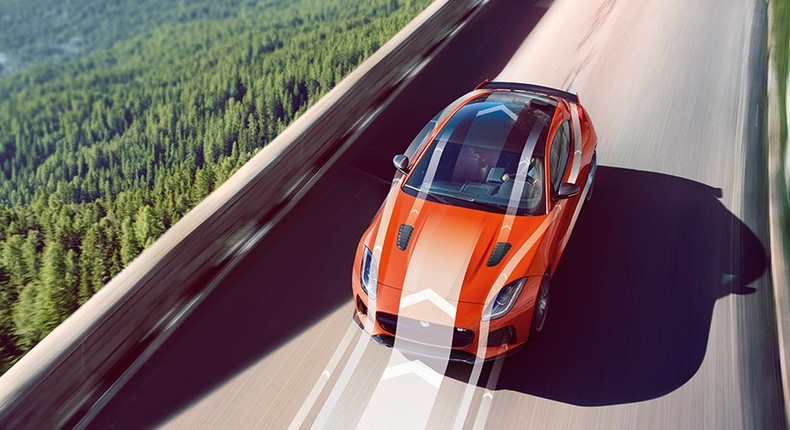 A few weeks ago, Jaguar unveiled the F-Type SVR sports car at the Geneva motor show.
This model got a lot of attention for it's spectacular features, such as the ability to go from 0-60 mph in just 3.5 seconds.
It has also gathered more attention with it's 200-mph mark.
Fast and Furious actress, Michelle Rodriguez, decided to try out this particular coupe and possibly prove the automaker wrong.
Watch the video above to see her hit the 200-mph mark and then some more.
Other features of the F-Type SVR are the 5.0-litre supercharged V8, an eight-speed automatic gearbox, and a new titanium exhaust to give "an even more purposeful, harder-edged sound", Autocar reports.
JLR's special operations managing director, John Edwards, said:
"The new F-Type SVR is the first series production Jaguar to be developed by Special Vehicle Operations and benefits from everything we know about precision engineering, performance and design.
The result is a 200mph, all-weather supercar that you can drive every day. We even made a Convertible version so that enthusiasts can revel in the sound from the new titanium exhaust system."
JOIN OUR PULSE COMMUNITY!
Recommended articles
Why I am not allocating land in FCT – Minister
7 governors who have been sacked by Nigerian courts since 2012
What went wrong with BVAS in the Osun governorship election?
Jandor promises to convert Lagos 'Area Boys' into positive tools if elected
BREAKING: Court dismisses suit seeking Buhari's sack
NDLEA bursts trans-border cartel, arrests 5 kingpins, seizes skunk, meth in compressors
APC accuses PDP of planning campaign of calumny against it and Tinubu
We are winning the war against oil theft, says Brigade Commander
Gov Masari says Obasanjo can't influence his own family to vote for Obi