Residents are forced to leave their cars at home due to increasing traffic
The horrible traffic in Auckland is forcing motorists to leave their cars at home.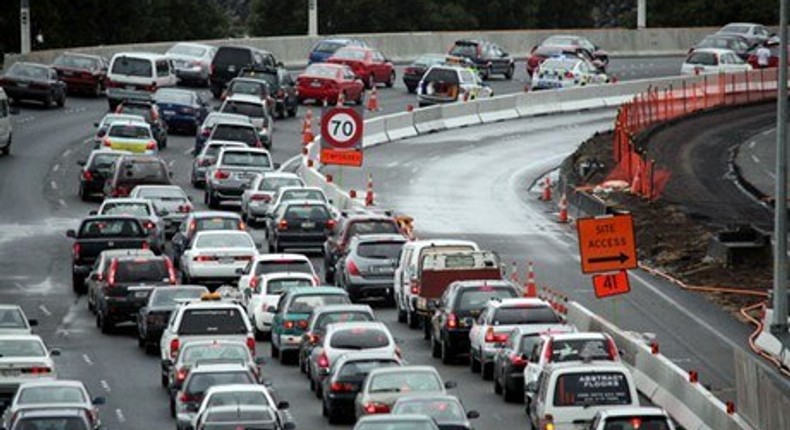 A lot of people think Nigeria has the worst traffic in the world.
According to 3news, the traffic situation in  auckland has escalated to a point where motorists have to abandon their cars at home.
This is due to a major construction on the City Rail Link that will start in November.
"If you're going into the city centre, we recommend you plan your journey using AT Metro buses, trains and ferries,"  Auckland Transport said.
Unfortunately, this is not the only construction that could affect traffic.
These projects include the development of a 30-storey office complex starting in November, two commercial builds at Wynyard Quarter, both starting at the same time and a new tower in mid 2016.
However, Auckland Transport spokesman, Mark Hannan, is still optimistic about the situation.
"We wouldn't want to get too into scare-mongering. We're talking about possible extra traffic delays of a couple of minutes and we have to meet certain criteria to make sure that's what's happening. People may just have to change their mode or their route."
JOIN OUR PULSE COMMUNITY!
Recommended articles
VON DG advises Nigerians against returning PDP to power in 2023
Gumi: Bandits commit terrorism, but they're not terrorists
Renowned businessman, Sani Buhari dies at 89 in Dubai
'There was no gun duel,' Army, police dismiss reported clash in Imo
COVID-19: NCDC registers 58 new infections, zero death
PDP members in Enugu send SOS to Gov Ugwuanyi over party leaders' high-handedness
China to deepen ties with Nigeria on sports, says Envoy
Buhari urges universities to use FG interventions to boost research activities
'I didn't want to contest,' Ortom narrates how God asked him to seek re-election in 2019