Beyonce buys £200,000 pair of shoes for new video
The glistening stilettos are the work of British designer, Christopher Michael Shellis, from Birmingham, who offers a 1,000-year guarantee with the hefty purchase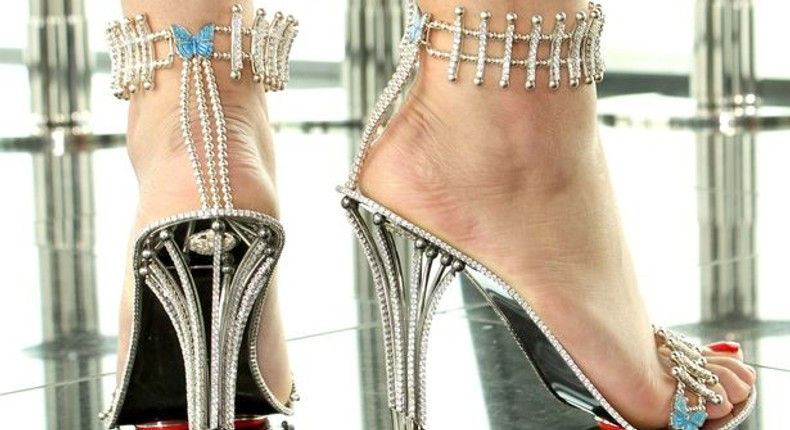 Beyonce has purchased a designer pair of £200,000 diamond shoes that she plans to wear in her next video.
Queen Bey will sport a pair of House of Borgezie Princess Constellation stilettos, costing a cool £200,000, for her new video that's due for release this autumn.
The Princess Constellation stilettos, sparkled with 1,290 precious stones, are lavish even by the jet-set standards of the super-rich artist.
The Princess Constellation stilettos were inspired by the Paul Simon hit, Diamonds On The Soles Of Her Shoes, but Beyoncé will be dancing to the sound of her own music when she wears the elaborate pair.
The glistening stilettos are the work of British designer, Christopher Michael Shellis, from Birmingham, who offers a 1,000-year guarantee with the hefty purchase.
Chris Shellis, owner of House of Borgezie, told the Birimgham Mail: 'It's the ultimate, Beyonce's one of those fantasy customers.
''If you want someone to model your creations, you can't get any better than Beyonce". I've been told the stilettos are for her next video which should be out in the autumn", he added.
JOIN OUR PULSE COMMUNITY!
Recommended articles
The best celebrity pictures on Instagram this week
7 people talk about the first time they heard about sex
5 apps Lagosians use to order food
How do young Lagosians eat when they barely have time?
Ladies! These are 5 things you shouldn't say to your man during s*x
7 things men find attractive in women, according to science
Itsekiri people: Kingdom History and culture of the Iwere
5 foods that can prevent erectile dysfunction
5 health risks of excessive masturbation on your body