Weight loss surgery brings on ripple effects
TV shows that support weight loss via plastic surgery don't always depict the lingering effects of those major changes.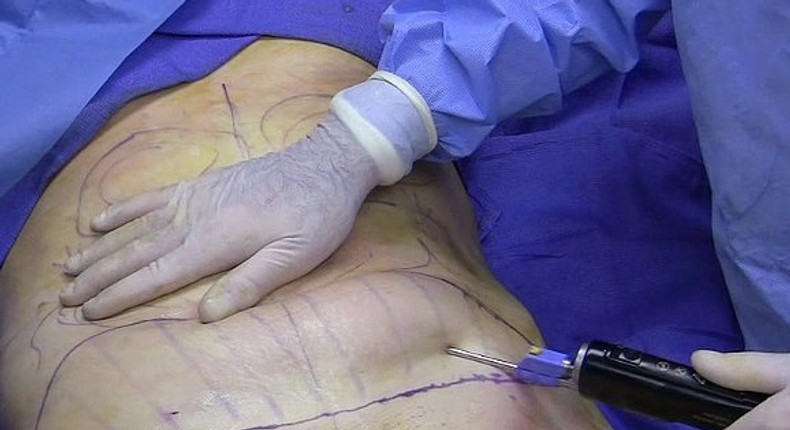 Statistics about plastic surgery typically, albeit sadly, present some intriguing insight into the greater culture of a country.
Knowing that women are clamoring for butt implants or cutting their eyelids to look more Western, can explain so much about the standards of beauty in our societies.
The American Society of Plastic Surgeons (ASPS) just released their 2014 report, and the findings shed a light on what beauty means to Americans.
It turns out, the fastest-growing plastic surgery isn't breast augmentation or lip filler or general plumping of any kind, but instead the exact opposite.
There's been a rise in the procedures associated with weight loss surgeries, namely tummy tucks (which increased by 9 percent since 2013, the biggest one-year jump in half a decade), thigh lifts, and similar surgeries to deal with excess skin.
This increase correlates with the greater cultural trend of massive weight loss, as aided by gastric bypass or other bariatric surgeries.
According to Scot Glasberg, M.D., the president of the ASPS and a plastic surgeon based in New York City, "There has been enormous media attention on obesity in recent years, and the classification of obesity as a disease".
The latter amendment came from the American Medical Association at their annual meeting in 2013, after the organization pondered the change for years.
It was a symbolic change, obesity has always carried health risks but the ASPS report reveals that 179,000 Americans underwent weight loss surgery that same year.
TV shows that support weight loss via plastic surgery don't always depict the lingering effects of those major changes.
Extra skin is left behind, and it's not just cosmetically undesirable.
"After patients lose weight, the hanging skin can rub and chafe," Glasberg says. "They get rashes, or even infections. The skin can easily interfere with your daily activities."
Thus the rise in lifts and tucks. "Typically, it starts in the trunk area," Glasberg says, or the lower waist, thighs, back, and even upper arms.
Brachioplasty, or arm lifts, saw their biggest single-year increase half a decade, as did thigh lifts.
These surgeries typically involve removal of the extra skin and tightening of the area beneath.
"There is certainly a ripple effect from pop culture," Glasberg admits, but these follow-up surgeries are less of the plastic surgery obsession, and more of a necessary step after a healthy change to one's weight.
"Clearly, once patients start and have a pleasant experience, they're likely to go on to additional surgeries."
So while there are plenty of surgical trends that might herald the cultural apocalypse, this particular rise correlates with a greater attention to one's health.
JOIN OUR PULSE COMMUNITY!
Recommended articles
Funniest reactions to RCCG's online dating website
We Outside: Detty December concerts to attend in Lagos
6 Secrets to having a beautiful Long distance relationship
Why Make up sex is the best
Are you in a relationship or Situationship?
Ways generosity can improve your health
Try these exercises to improve your balance
10 young Nigerians talk about how parents, social media affect their mental health
Style Inspiration: 5 perfect vacation outfits inspired by Tiwa Savage