If you attended a Nigerian university, these 8 things likely happened
Many Nigerian universities that are supposed to be citadels of learning are centres of trauma and bad experiences.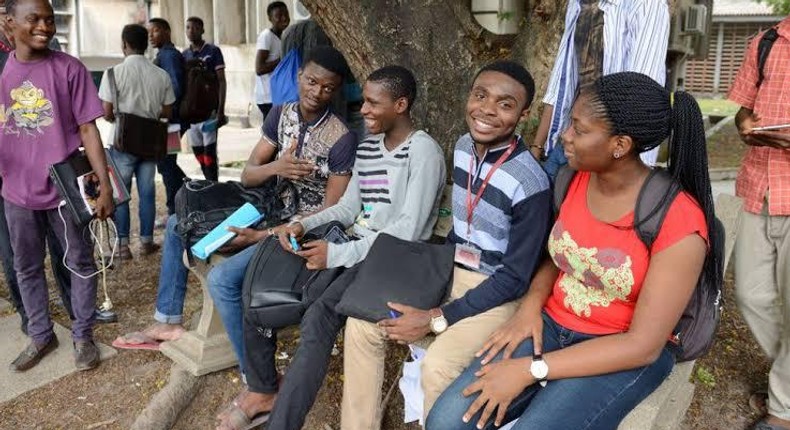 Public and private universities alike can be quite challenging for most young Nigerians.
If you've attended a Nigerian university, here are eight common experiences:
1. A lecturer being a bully
Many lecturers especially in public universities pride themselves on telling their students that there is no chance in hell they will pass their courses, and they usually stick to their resolve. Some even set a range by saying everyone will get a certain grade, and true to their word, everyone usually gets that grade, no matter how hard they try.
It's even worse when you have been singled out by a lecturer who vows to make your academic life hell. A lecturer can make buying his textbook compulsory to pass a course or even ask for sexual or financial favours.
2. Hostels that do not have electricity or water
Depending on the school, the light and water situation can go from dire to absolutely horrific. Students at some universities sometimes have to read with candles. The hustle for electricity and water can be so serious that some rich students live off campus so they can have generators.
The unfortunate effect of the lack of water is absolutely filthy toilets and bathrooms.
3. 7 am lectures
There's no reason why any lecturer should schedule a class by 7 a.m. except he or she hates their family and doesn't want to see them in the morning. Unfortunately, this is a common experience for lecturers who can never finish the course outline on time. Very few students make it to these lectures, and those who do are grumpy about it.
4. Not signing the attendance list
The day you decide to skip class, that's the day almost everyone does the same. The lecturer notices that the class is empty and decides to punish those who aren't in class by giving free marks to those who attend. At this point, people will start running to class from wherever they are, but it will be too late. If you are really lucky, your friend will write your name, but if you are unfortunate, the lecturer might do a roll call.
5. Private university students living in perpetual fear
Whether it's a slap from Papa or being caught smoking or even hugging on campus, the list of things students in private universities can't do goes from normal to absurd really quickly. What do you mean I can't eat meat? If, for any reason, you find yourself in a private university, the fear of being expelled from these secondary school-like institutions will keep you in line.
6. Cult clashes
Many young people, especially men, are faced with the decision of whether or not to join cults in some public universities. Whether for protection or fame, cultism has destroyed a lot of lives, both for those who join these groups and innocent bystanders. When a cult group sets their sights on you, your life will be hell. Chidi a graduate of a Nigerian university recalls how, on his first day on campus, he saw some dead bodies outside the gate; they were burned to death, and it turned out one of those dead bodies was his relative.
7. Arrow shooters
Almost every university has a block where ladies dare not walk in peace. Young men from above will rain insults or compliments, depending on their mood that day. Often seen as normal, catcalling is demeaning and objectifying.
8. Tear a piece of paper
An impromptu test that almost had you peeing in your pants—more likely than not, you had no idea what to write. The course is difficult on its own; the impromptu test is purely a fear tactic that shouldn't exist.
JOIN OUR PULSE COMMUNITY!
Recommended articles
8 sperm-killing foods that dads need to avoid!
Why reverse cowgirl is the world's most dangerous sex position
The male G-Spot, where it is and how to stimulate it
5 ways to spot a sex addict or know if you are one
Beyond the runway: Lush hair steals the spotlight at Lagos Fashion Week's 10th edition
Escudo Rojo introduces Luminoso Wine in spectacular launch event
Bikiya Graham-Douglas continues to promote African Arts & Culture with Beeta Arts Festival (BAF)
Spices, Stories and Surprises: Detailed look at vibrant African Food & Drinks Festival Abuja
Make this no-yeast bread with only 3 ingredients
What is a Jacob's ladder piercing? It's pretty extreme
3 ways to get rid of vaginal odour
Ladies, here are 5 sexual mistakes men need you to stop making
Shelly-Ann Fraser-Pryce: Track legend signs mouthwatering deal with luxurious wristwatch brand
Sha'Carri Richardson: World's fastest woman reportedly bags $20,000,000 endorsement deal
She needs a break - Super Falcons coach explains Ashleigh Plumptre's absence from team
Sergio Ramos makes Champions League history 31 years after Daniel Amokachi
Thiago Silva recalls TB fright ahead of Chelsea debut