Alleged witch confesses causing calamities for her children
A woman who is alleged to be a witches has reportedly confessed to how she has been the one behind a series of calamities that has been befalling her children and community.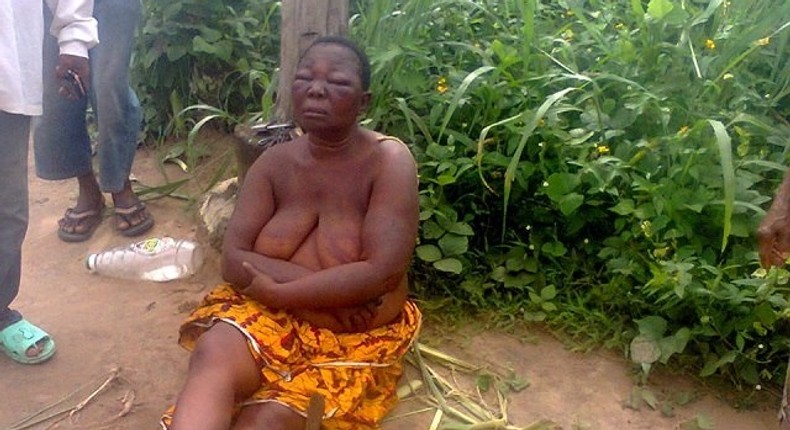 This is another story that seems more of a fiction but according to a Facebook user,
According to Ability, the woman who later gave her name as Janet Ugbaga, confessed to being behind many afflictions that have befallen her own children as well as some people in and around their community, including causing deadly accidents.
Read what Ability wrote on his wall:
"This woman name (withheld) was arrested by God early today along Owevwe road, Edo State. When she was asked where is she coming from, she started confessing that she was sent a message from her coven to cause misfortune on Owevwe road, and also to capture one Juju along Owevwe road.
In her further confession, she said she had 5 children and she has successfully killed 2; she said that she put misunderstanding in one of her son's marriage;
she said she was the one who stopped one of her sons who was buying cars from London to sell in Nigeria; she said she was the one who made customs to seize her son's goods and she collected one of her son's d**k in the coven.
She was also responsible for some accidents that recently happened along Owevwe road. She also said that she attends GGM and attend prayers in Gods Sabbath Mission, Saniko, that whenever the pastor is praying for the people, she would hold the prayers in the air. That none of her children will progress in life; she also said she has an airplane in the spirit world."
Part two of the alleged witch's confession:
Continuation of Confession!!!
"Yesterday, I made the report of a woman confessing, but her name was not revealed. But today, after much treatment, she revealed her name. She is Mrs. Janet Ugbaga. She said she comes from Agbarha town, that she said she used to sell Ogogoro (illicit gin) and had infected the drink and after anybody drinks it, there will be no better life for them.
She said one of their members is selling banga rice in Agbarha and that banga rice is human s**t from their coven. What a wicked world."
"She also said that they are the cause of some major accident in Agbarha road that has led to the loss of many lives.
She also said that her son's d**k that she used in the coven will be released for him before on Monday as her son came and took her home."
See more photos in Pulse Gallery
JOIN OUR PULSE COMMUNITY!
Recommended articles
Twerking Wendy Shay threatens to snatch someone's man with her slim waist in 'wild' video
4 side effects of being a virgin for too long, according to research
Doctor and nurse suspended for having sex, moaning and disturbing patients who're in pain
Police save little boy who hid inside aeroplane's engine to travel abroad (video)
For men: 5 foods that can help you stay erect and sustain stronger erection
Women, this is why you should learn to initiate sex more in your relationship
6 symptoms of stomach ulcer
Ayisha Modi goes naked on IG as she flaunts her newly 'acquired' body (VIDEO)
You should not do any of these while visiting the Oba's palace in Benin