Viral bank guard's bravery leaves widow and children in poverty
A fierce gun battle between armed robbers and a policeman turned Mrs Iboko into a widow with no help from the Nigerian Police Force.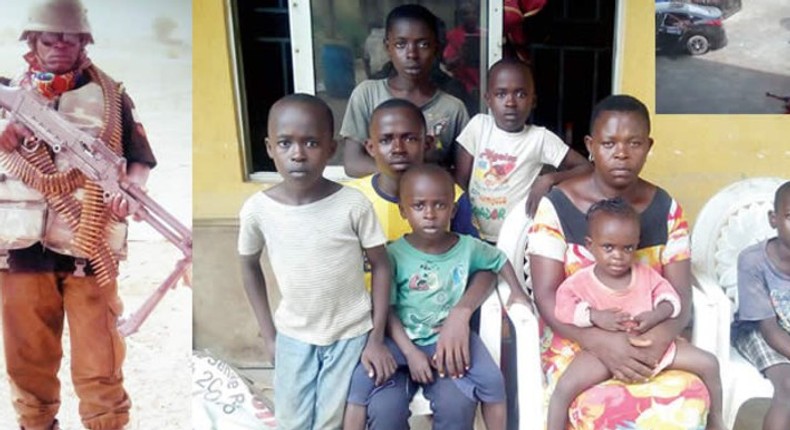 Viewers have been in awe of the brave policeman who was not afraid to sacrifice his life in a gun battle with armed robbers.
What most people do not realise is that this incident actually took place in the Imo State Branch of the Bank, on February 22, 2017.
Punch did some digging and discovered that the fearless policeman's name is Sergeant Chukwudi Iboko.
According to the newspaper, the officer left behind a widow named Mrs Rose Iboko and seven children in Amakohia, Ihitte Uboma Local Government Area.
Anyone would think that such a rare act of bravery would have been rewarded and that the officer's widow would be doing fine after her husband's demise.
However, this interview with the 32-year-old lady says differently.
Although her husband died while he was on the duty, Mrs Iboko says the Nigerian Police Force has failed to support them. She also revealed that Zenith Bank has offered very little assistance.
She said the Police "only came for his burial in the village on Friday, March 17, 2017. I am now left with my children alone.
The bank only assisted me in making sure that he was buried. After that, no help has come from the bank."
When asked how life after her husband's death has been, Mrs Iboko had some tear-jerking things to say.
She revealed that her husband's demise not only left her without a breadwinner, it also took her 5-year-old son, who died once he saw his dad's corpse.
In her words, "We have triplets; all boys, but sadly, one of them, Chukwuebuka slumped and died the day their father's remains were to be interred. He slumped immediately he saw his dad's corpse during his lying-in-state and died.
It was a double tragedy for my family that day. He was very close to his father.
Despite being just five years, he couldn't bear the loss of his loving father. "
Since the policeman's death, the rest of her children can no longer afford to go to school due to their mother's inability to pay their tuition fees.
Speaking on her husband's bravery, she said, "Yes, I am very aware. I was not surprised that he confronted them because he was a combatant, committed and patriotic cop. My only regret was that his death was untimely, leaving me to cater for our children alone. He was in Yobe State for a special mission during the upsurge of Boko Haram attacks in the North.
He was also on special missions in Kano and Plateau states and he fought gallantly. One thing about him was that he was committed to his job. He loved his job and derived joy in saving lives."
Concerning her reaction to the news of his death, she said, "It was one of his colleagues who called me on a Thursday morning to tell me that my husband was shot by armed robbers the previous day. I don't know the person but he spoke to me in a manner that suggested that all was not well. He didn't tell me that my husband was dead. He only informed me that my husband was shot by armed robbers a day before that day.
It was when I arrived in Mopol 18 that I was told that my husband, whom I spoke with on the phone on Tuesday prior to that day, was dead. I couldn't believe it. I told them to stop the joke but they insisted that he was dead. It was as if my world had crumbled. Several thoughts came to my mind within a few minutes: "Where do I begin? How do I explain what happened to him to his children, especially our last child, Success, who was fond of him?  Where do I go from here?"
Her first son, 16-year-old Favour, also spoke with the Punch correspondent.
Amid tears, "I spoke with daddy two days before his death. He died on Thursday but had promised to come home for the weekend. He promised to give me money for some textbooks I needed once he arrived. But he couldn't fulfil his promise as he died two days to the day he promised to come home.''
Despite how their father died, Favour's immediate younger brother indicated interest in following his father's career path.
However, Favour said he dreams of becoming a medical doctor.
Mrs Iboko called on the government and fellow kind-hearted Nigerians to help her family.
She said, "I want government and Nigerians to help me support the education of our children and to take care of us. I want them to please do for his kids, the things he would have done for them as a father if he were alive. I am jobless.
He had an uncompleted building project in the village. He was building a bungalow. I am not sure I know where I will take my children to whenever we visit the village. He promised to train them up to the university level. He pledged that he would assist Favour to realise his dream to study medicine. But death didn't allow him to fulfil any of them.
My husband's father is dead and his mother, Mrs Maria Iboko, is seriously sick, owing to the shock she suffered upon hearing the news of her son's death. My husband was her second child and the family's breadwinner. She is almost 80 years old. My mother is currently down with a stroke. She could not bear the news. She was fond of my husband.
We are at the mercy of a landlord, he wants his rent. We owe 15-months, rent and that is about N180,000. I want the good people of Nigeria to come to our aid before we are thrown out of the apartment."
Mrs Iboko's family certainly deserves our help and it is truly sad that we live in a country that is not doing anything for its heroes.
JOIN OUR PULSE COMMUNITY!
Recommended articles
Top 10 richest mineral-producing countries in Africa
Top 10 African countries with internet freedom
5 African countries which have received loans from the IMF in 2023
5 African countries where snow falls
Tanzania says its Sh1.4 trillion ($600 million) loss is no cause for alarm, see why
Call your girls to order  —  Abike Dabiri tells Arise TV owner
Veteran Nollywood actor Adewale Adeyemo is dead
Africa's richest woman Isabel Dos Santos finds herself deep in another financial scandal
'There was a point...I was seeing the stage upside down' - Hilda Baci