Two cattle rustlers arrested, 132 cattle recovered
Officers of the Nigerian Navy have arrested two suspected cattle rustlers and recovered 312 cattle.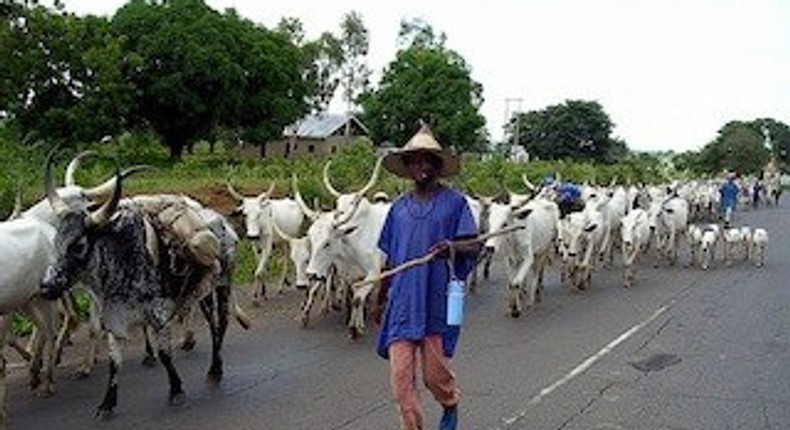 Officers of the Nigerian Navy School of Armament and Technology Kachia have
While handing over the cattle to officials of "Operation Yaki", the state security outfit, the Commandant of the school, Navy Cmdr. Timothy Dakwat, said that the recovery was made on October 29, the News Agency of Nigeria (NAN) reports.
"Remember that Chief of Defence Staff, Gen. Abayomi Olanisakin said we are done with the menace of Boko Haram.
"Now one of the cardinal threat to internal security is insurgency and cattle rustling," he said.
According to the commandant, the operation was made successful by the cooperation of the state government, cattle breeders association and the general public.
He said, "We are being empowered and encouraged to carry out our statutory responsibility to assist the police in establishing civil authority.
"All this success is a collective effort of the security operatives."
NAN reports that Dakwat appealed to the public to volunteer any useful information that would help in putting an end to cattle rustling and rustlers.
Dakwat recalled that Navy personnel had earlier recovered 95 cattle on October 21 and 22, arresting four suspects in the process and handing them over to Operation Yaki.
Meanwhile, Retired Col. Yakubu Soja, State Coordinator, Operation Yaki, also commended the navy for their efforts in fighting the menace.
Soja said that so far, security agents in the state have recovered 19,000 cows since the government began its efforts to get rid of cattle rustlers in the state over a year ago.
He also said that the recovered animals have been handed over to their owners following thorough scrutiny.
According to Soja, collation centres have been set up by the outfit for recovered animals in Birnin Gwari, Zaria, Kachia and Jere.
The Retired Col. advised people who have lost their livestock to step forward with identification in order to retrieve their animals.
The North West Chairman of Cattle Breeders Association of Nigeria, Ardo Ahmadu Sulaiman, has also commended the state government and the security agencies for their commitment to ridding the state of cattle rustlers.
Sulaiman said the association would continue to do its best to eliminate the threat rustlers pose to the government.
JOIN OUR PULSE COMMUNITY!
Recommended articles
10 African countries with the highest debts to the IMF
Meet the Sapeurs, Congolese who wear expensive outfits though they live in poor communities
Egypt's richest man joins trending billionaire migration to UAE
10 African countries with the largest population lacking electricity
World Bank to provide electricity for 100 million Africans by 2030
Top 10 African cities with the highest purchasing power
10 African countries with the highest fertility rate in 2023
Demand for used cars in Nigeria surges amid high inflation and declining GDP
5 ways to spot a sex addict or know if you are one