'Ashewo' stabs man over price increase
A prostitute has been arrested after she stabbed her customer due to money trouble.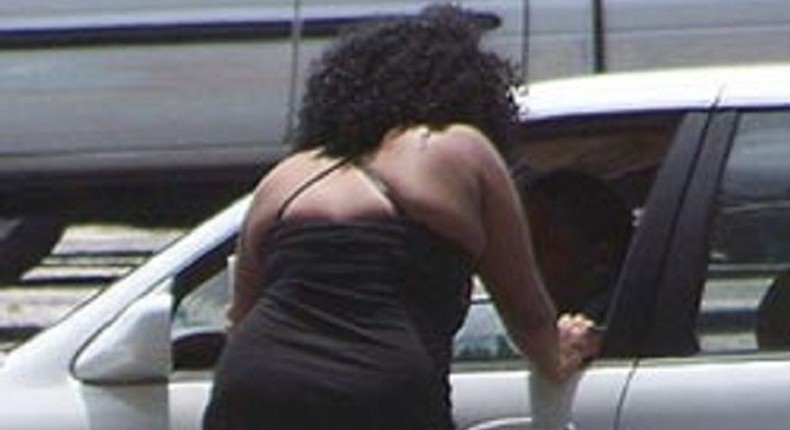 The incident, according to witnesses, happened in a popular brothel in Ojota area of the state, when the customer and the prostitute could not agree on a price after their all night sex romp.
According to the prostitute, the man identified as Etuh, a long distance driver with a transport company, was her regular customer who spent nights with her whenever he visited.
He knew the price she charged and there was never any argument before the ugly incident until the recent rise in the dollar, making everything sky rocket, including the amount they charge for their services.
"Etuh is a driver who plies Lagos and the east and he has been my regular customer for several years. In fact, I knew him when I was in Iyana Ipaja before I moved to Ojota.
Normally, when he sleeps with me, he already knows the amount to pay me and at times when he does not have enough money on him, I allowed him to have sex with me for free.
But this time, he owed me some money from two previous visits and when he came, I told him that our price has gone up due to the rise in dollar. He was just laughing and I told him I was very serious.
I normally charge between N5,000 to N10,000 for all night but with the dollar rise, I told him I was going to collect N15,000 plus the money he was owing me.
After spending the night with me and having sex with me four times, he woke up very early to have his bath. When he came out of the bathroom, I told him to pay me my money including but he told me he was only going to pay the old price of N5,000.
I told him I would not accept the money and that he would not leave unless he paid up all my money. He got angry and slapped my about four times and to add to the insult, he tried to rape me. That was when I picked a bottle of beer that was on the table, smashed it on the wall and stabbed him with it.
I was only defending myself," Loveth narrated.
The victim was rushed to the hospital while Loveth was arrested and would soon be arraigned in court.
JOIN OUR PULSE COMMUNITY!
Recommended articles
For men: 5 places you shouldn't touch a woman during s*x
Nancy Isime names the kind of actors she prefers to kiss on set
How Abacha's death saved my dad's life 24hrs before execution - Diya's son
The best way to brush your teeth to prevent mouth odour
Whitemoney drags BBNaija women, says they waste their time on the show
5 reasons you'd be lucky to date a woman with a higher s*x drive than you
Train crash: Bus driver begs for forgiveness after psychiatric, drug tests
Top 10 African cities with the highest population growth from 2022 to 2023
Mercy Aigbe struggles to stay awake after Sahur during Ramadan