Police Sergeant allegedly robs woman; escapes into Lagos command
A senior police officer has been dismissed after it was found out that he went about robbing stranded women.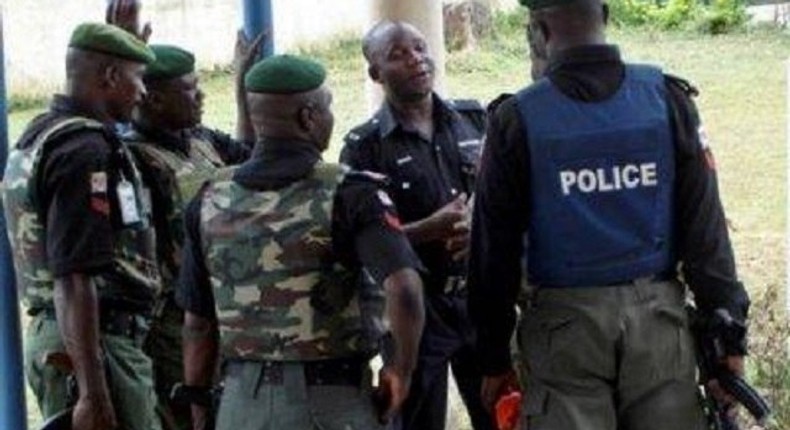 A police Sergeant identified simply as
It was gathered that the police officer who was attached to 'A Department' at the state Police Command, was a serial thief who allegedly used to target females standing along the road and that whenever he robs the ladies of their handbags and other valuables, he would drive off in his white Sport Utility Vehicle (SUV), leaving them screaming and crying.
He would then go for another victim or would drive straight to the command, where his office is located and once he drives into the command headquarters, he would change his clothes and put on his uniform.
The report added that nemesis however caught up with him after one of his victims traced him to the command and although the lady was confused when she was finally presented with Oluseyi because he had changed his clothes, she, however, was sure of his car type and colour.
The victim, who narrated her ordeal to New Telegraph, said she also recollected three numbers in his number plate. When Oluseyi's car was searched by policemen who were already getting angry with the lady's supposed wild allegations, several female handbags, shoes, phones and panties were discovered.
It was also gathered that the state Commissioner of Police, Fatai Owoseni, who had also been hearing about the serial thief preying on ladies, was so angry with the sergeant that he ordered his arrest after which he was placed on orderly room trial and was dismissed.
"Every morning, the sergeant would drive his SUV around. He mostly frequents Ikeja GRA, where he hunts for women. Whenever he sees a lone female, waiting for transportation, he would stop and ask her where she was going.
Once she tells him, he would claim he was going the same way. After driving for a while, he would do something that would make his car to start jerking.
He would stop, get down and pretend to check the car's engine. He would go back to the driver's seat and ask the lady to step down. He would beg her to check if the car's headlights were working.
Immediately the lady steps down, he would drive away, taking along her handbag and other valuables left on her seat.
On the day that Oluseyi played the same game on his last victim, the lady, who was returning from a night club, started trekking, looking for means to go home. She found herself at the Police Officers' Mess.
Like other victims, she narrated her experience. Unlike other women, the lady was able to memorize three numbers of the number plate.
The Commissioner's PA was even the one who gave her money to go home but moments after she got to PWD area, not too far from Lagos Command Headquarters, she sighted the white SUV.
She pursued and started hitting the windscreen for Oluseyi to stop, but the sergeant recognised her and knocked her down with his car. He then zoomed off. She quickly flagged down a tricycle and told him to go after the vehicle.
When she saw Oluseyi at PWD, he was already with another lady inside his car. They chased the jeep around, until they saw it again. This time, it was driving inside the police headquarters. She got down from the tricycle and attempted to enter the command.
Policemen on sentry duties refused to allow her inside. She told them that a man in a white SUV, who robbed her that morning, just drove into the command. They didn't believe her story. The lady went back to Owoseni's PA at Police Officers' Mess, to tell him that she sighted the driver who robbed her.
With the PA in tow, the lady entered the command and easily identified the white SUV because she had memorized three of the numbers.
When they brought Oluseyi, she was confused because he had already changed his clothes. She said the man wore red sweater. Oluseyi was angry and told her that she was embarrassing him. The CP's PA told him to shut up. The car was searched and a red sweater discovered.
The sweater was what he wore when he picked the lady. Further search of the vehicles, yielded several women handbags, panties and phones. She picked her phones from among the lot. She said the phone belonged to her sister.
The first number on the call log was dialed and her sister picked it."
JOIN OUR PULSE COMMUNITY!
Recommended articles
'Shanty Town': RMD speaks on scene with Nancy Isime, says friends want to 'touch things' like him
Osun: Adeleke breaks silence, reveals next move after sack
32 passengers kidnapped in Edo train station attack
Here are ways to naturally enlarge the male organ
'Domitilla: The Reboot' teaser invites you into the dangerous, intriguing lives of sex workers
Obi makes surprise visit to Boko Haram-ravaged Southern Borno
4 things to do if you have a higher sexual drive than your partner
Kenya and Tanzania tear down 23 trade barriers hindering their commercial relationship
Uganda's State House allocates billions for brand new cars for the President and Vice President