See what a father did to his own children
An Okada rider is in big trouble after he was arrested by the police for brutalising his own children.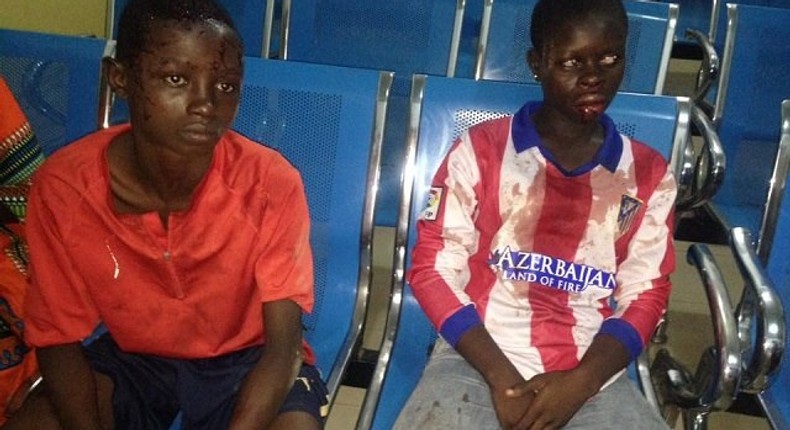 Another of such cases was recorded at the Nigeria Airforce Medical Center, Ikeja, Lagos State, when two children were rushed there after being brutalized by their father and guardian.
This is what an On Air Personality, Micah Aruocha aka MC Ice Water, posted on his Facebook wall on the incident:
"So I was just hanging around to settle some bills (mumsie came to rest a bit) at the Nigeria Airforce Medical Center, and my colleague, aka , who stays at the base, decided to come give me moral support and here comes these kids with a man towing along, known to be a neighbour, .
And Slimytee's journalistic instincts swings into action thereby gingering mine into taking pictures while she goes about getting all the facts."
The man who did such to these kids - the boy - (14) and the girl - (15), is actually the boy's father and an uncle to the girl.
He's an Okada (Commercial motorcyclist) rider and practically more of a thug (according to the good neighbour). He lives at 7, Dele Obilade close, Mafoluku, Oshodi, and has already been handed over to the policemen on duty at Shogunle Police Post.
The children said they were asleep, when their Dad - , came in and started using various objects on them and of course, the resultant effect is the pictures you have here.
Asked after their mummy and they said she doesn't stay with them anymore and of course, they are used to this type of beating even though this is the most fatal of all in the series of such.
This is hoping Human Rights Activists won't allow this man go unpunished as the police men might want to handle this with kids gloves.
The good neighbour who brought them down and also took care of their bills can be reached via 08023458248 - Hon Olalekan."
See more photos in the Pulse Gallery.
What do you think should be done to the man who did this to these kids?
JOIN OUR PULSE COMMUNITY!
Recommended articles
Top 10 most ethnically diverse countries in Africa
African countries with the cheapest household electricity prices
Top 10 African countries producing Palm Oil
Top 10 African cities with the highest population growth from 2022 to 2023
Kenyans in diaspora tend to send more money home the weaker the Kenyan shilling gets
PTAD set to unveil "I Am Alive" confirmation portal for pensioners
Train crash: Bus driver begs for forgiveness after psychiatric, drug tests
Top 10 African countries with the most transparent GDP data
5 ranking PDP lawmakers who became Labour Party casualties