The story of Nigeria's famous globetrotter
Ajala the Traveller is one of the most famous Nigerians ever because of his globe trotting exploits.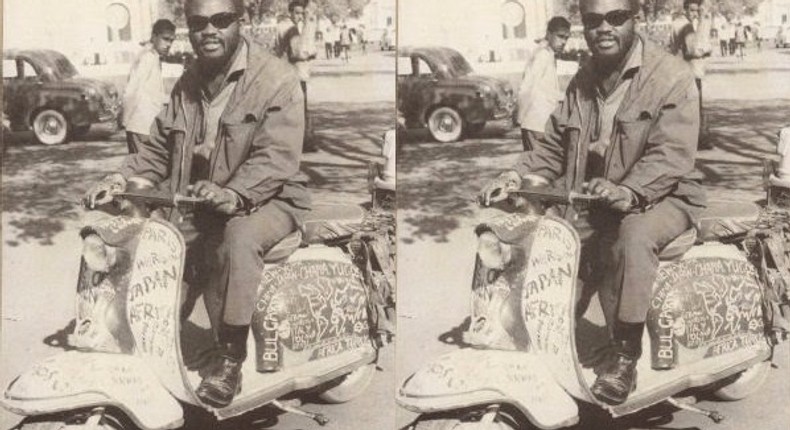 On this Thursday, January 19, 2017,
In 1972, Nigerian music legend Chief Commander Ebenezer Obey sang about the exploits of Ajala the Traveller on his 1972 hit album ''.
Back then, it was a big deal if Ebenezer Obey or King Sunny Ade mentioned you on a record. You were the real deal. So who is Ajala the Traveller that got Obey to give him a shout out?
Ajala the Traveller's real names are Moshood Adisa Olabisi Ajala. He was born in Ghana in a polygamous household. His father had four wives and 25 children.
"I was born in Ghana, of Nigerian parents, and brought up in Nigeria, where I had my schooling at the Baptist Academy, Lagos, and Ibadan Boys' High School. At the age of eighteen, I went to America to further my studies. My father, a traditionalist who belongs to the old school…" he wrote in his book ''
He later went to De Paul University in Chicago in America to study medicine. While in America, he became the first black student to be pledged by the Delta Upsilon Pi 'fraternity.
His travelling adventures started in 1952 when he decided to embark on a cross-country tour of America with just his bicycle and agbada. He would cover 2,280 miles in 28 days starting from Chicago and ending in Los Angeles.
Ajala would embark on other globe trotting adventures thereby dumping his ambitions of becoming a doctor.
Thanks to his cross country journey in America, Ajala became famous in America and back home. His fame led him to be an actor and he starred in a few movies.
His time in America was blighted with his trouble with the law and he was eventually deported from the country.
In his lifetime Ajala, the Traveller visited India, USSR, Jordan, Iran Jordan, Israel and Australia. Remarkably he did this on a Vespa. He also met and dined with a lot of world dignitaries.
Ajala the Traveller was said to be in love with the ladies too. He had several wives and children, some of the countries he visited.
Moshood Adisa Olabisi Ajala died on February 2, 1999, in abject poverty despite his fame.
JOIN OUR PULSE COMMUNITY!
Recommended articles
19-year-old girl stabbed multiple times in Accra after catching her brother & mother having sex
Sex Education: 5 ways to prevent premature ejaculation
5 ways to protect yourself from snake bites in the toilet
Man builds house upside down; toilet, kitchen & everything inside is overturned (video)
Sperm- killers, here are 7 things that men need to watch out for
Tiwa Savage changes song lyrics as Salma Mumin rains dollars on her in Istanbul club
8 signs your guy really wants to marry you
Super Falcons star Francisca Ordega shows off curves in stylish outfit [Photos]
North Korean man who smuggled 'Squid Game' into the country to be sentenced to death