What can Nollywood learn from Tonto Dikeh's marriage?
Story story? Stooory! Once upon a time? Toooonto!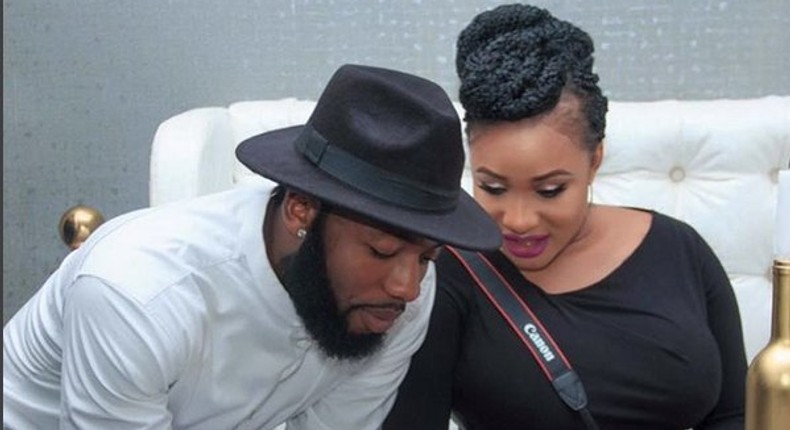 Tonto Dikeh has come a long way, this about how she has become the greatest Nollywood plot twist ever.
In August of 2015, we saw the first photos of a smiling Tonto, her hand clasped in that of her Lover's, Oladunni Churchill. They were now to become man and wife, to have and hold each other, for better for worse.
The Tonto we saw that day was nothing we knew. Nollywood loves it's bad girls, and Tonto literally still lay claim to the throne. She played the sexual roles, from the runs girl to the incestous. She smoked everything. She shared the fuck-you seflies.
She made a living being the girl your mummy warned you about while your daddy coveted her in secret.
Let's not forget the constant clapbacks and calling-outs. Tonto made the headlines for all the things Nigeria likes to call wrong.
You see, Nollywood has some pretty interesting story templates and stereotypes. If a woman wears a mini skirt, she's joining gang. The day she smokes a cigarette is the day she becomes ringleader.  Now, she's sleeping with everyone, getting abortions as frequently as you'd take a poop.
We know the next phase of this story. She either dies on the table of a quack doctor or manages to survive.
Fast forward five years, in her husband's house. Her "Monster-in-law" wants to carry a grandchild but no baby is forthcoming. Loving husband takes his wife to the hospital and they discover her womb is damaged. Husband succumbs to the pressure of his mother and marries the girl from the village.
Our wife is shamed and disgraced out of her marriage, her story relegated to the closing scene soundtrack as the movie credits roll out.
Moral of the movie: Girls, don't join bad gang. You're nothing without your womb, and when you bear no child because of your past misdeeds, the only thing you'll have to bear in shame. No forgiveness.
It gets interesting. A lot of Nigerians spend their time in front of the TV, mostly for entertainment, but subtly to absorb and learn. So in real life, they paint this end for all the bad girls they like to gossip about.
So even girls with hereditary or fertility problems not of their own doing have their pasts put under scrutiny.
"Did she have abortions? What lifestyle did see live?"
This is where Tonto Dikeh comes in.
The Poko Baby was a web traffic magnet. There was always a suggestive selfie, a controversial movie, a new tattoo, the whole spectrum.
Today, Tonto is still a web traffic magnet. She draws the traffic for gifts from her husband, photos of her and her baby, her motivational posts, the whole spectrum.
Tonto Dikeh's marriage has single-handedly disrupted and destroyed the old Nollywood "stories that touch". She is a tongue-out to the over-flogged plots.
Her story is the plot twist.
Tonto's happily-ever-after in the making is blossoming. Her baby is growing.
Is there a better way to round this up than with the most classic Nollywood ending?
JOIN OUR PULSE COMMUNITY!
Recommended articles
I've N1bn to donate, what party are we voting for? Naira Marley asks
Kreglex Productions partners with NGOs to launch The Cabal Talk Show; Ladies Cabal and Men Cabal
BBNaija 7: Level one housemates are boring motherf**kers - Phyna
Nigeria's Oscar submission 'The Milkmaid' lands Amazon Prime Video debut
Bordegga - 'Late Bloomer'; The E.P trailblazing for new school Afrobeats
BBNaija 7: Live updates of the 'Level Up' season (Week 3)
BBNaija 7: I'm so into you - Bella tells Sheggz
'I didn't mean to disrespect you' – Kizz Daniel apologises to Tanzanian fans, offers free show
Davido's 'Fall' re-enters Billboard Chart after performance at Travis Scott's concert