Peter Okoye and Paul Okoye are no longer a music unit
Not one Okoye brother has publicly admitted to the group splitting, but with each passing day, the picture becomes vivid. Peter and Paul Okoye are no longer a music unit.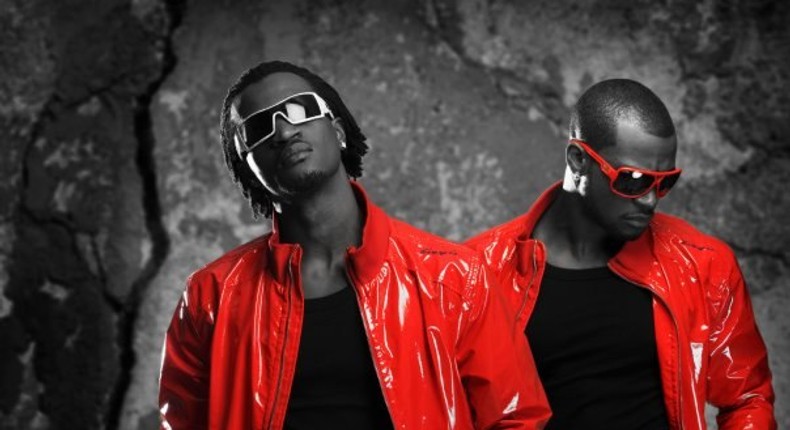 Peter Okoye is out with a new single. And surprisingly, the shock value is almost not nonexistent.
The Okoye brothers have publicly been at each other's throats, airing their grievances on social media while the world throws in contributions and mostly pleas for the group to still remain a unit. Dancehall artist, Cynthia Morgan also threw in her voice, calling on her 'fathers' and childhood heroes to cut the crap and hug already.
Apparently that has not worked.
Many others have sat on the fence during the debacle, sneering their noses and calling this episode another PR stunt to ensure a new album release. But it appears, the belief they cling so strongly to is a false. Peter and Paul Okoye are headed to the rocks.
Peter has released his first solo single, 'Look into my eyes', a mid-tempo song that carries all the markers of a typical Psquare love song. The tune which the singer has gone on social media to promote carries all the usual lines about love, and comes together at the hook. It's official, there's new music from Peter Okoye, and there's no Paul in it. The twin duo are no longer a unit.
Since their appearance on the scene in 2001, the twins have been a strong influence on Africa as an indefatigable and entertaining unit. From award shows, performances, projects and every related activity, they have gone at it together, riding the waves, hand in hand. But the cracks have shown.
Peter's single isn't the first time the duo have failed to release music together. This year, Paul and Tiwa Savage are on a social campaign theme song for The Nigerian Urban Reproductive Health Initiative (NURHI). The campaign, themed 'Get It Together', was officially launched with a music video that features the two musicians - Tiwa Savage and Paul Okoye.
While Peter is all about himself and releasing new music, Paul has indirectly been on this path. The singer also this year launched his record label with two acts, Lucy and Muno. Both singers have released new materials, with the vocal arrangement and instrumention not dissimilar to Psquare's content. You can't fault Paul for this. All his life he has made music the Psquare way. His offshoots will have to develop their own path.
Everyone is all about self-now, with the group having a fragmented outlook. The brothers don't seem so brotherly in business anymore. Also, throw in reports of Paul Okoye claiming singular credit for his work on their extensive discography. He is widely regarded as the brain behind the music, and the general perception is that he feels his skills would be more suited to other personal endeavors, hence the opening of his Rudeboy Records.
JOIN OUR PULSE COMMUNITY!
Recommended articles
5 indicators that Tinubu may not be enjoying Buhari's full support [Editor's Opinion]
Top 5 economies in Sub-Saharan Africa to watch out for in 2023, according to IMF
4 foods that cause erectile dysfunction in men
Osun: Adeleke breaks silence, reveals next move after sack
How to make love: 5 difficult sex conversations couples should have
Funke Akindele recounts saddest day of her life and how it almost ruined 'Battle on Bukka Street'
Nigeria, Cameroon and Zimbabwe lead the pack of African students studying overseas
El-Rufai says some elements in Aso Villa want APC to lose 2023 election
5 reasons why s*x during the rains remains undefeated