The birth of Nigerian hype men
This concept of using hype man to back up rappers on stage and even on soundtracks began as far back as the 80s.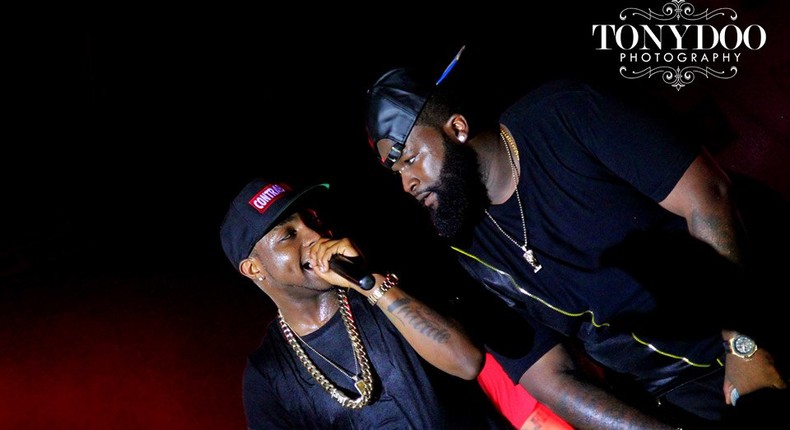 You might consider that guy who comes out on stage screeching "
The hype man acts as an on stage support representative for a performing act. Rappers usually employ the services of this individual, but in recent times, we've seen pop acts adopt this service as well.
The hype man plays the role of prepping the crowd by getting them fired up before the rapper comes on stage. They ensure the crowd gets excited and the room is energized and this in turn boosts the confidence and performance levels of the artistes. In some instances, he may even back up the artiste by playing ad lib master, echoing their words and interjecting as the main act performs. This is done to draw attention to specific lines of the artist and in some cases to help them catch their breath.
This concept of using hype man to back up rappers on stage and even on soundtracks began as far back as the 80s with the development of the hip-hop industry in the United States of America.
Flavor Flav was one of the earliest popular hype men.  The American rapper backed hip-hop group Public Enemy. Several popular hype men in the U.S hip-hop industry include P. Diddy who used to hype for the late Notorious B.I.G, Fatman Scoop (who hyped for various artists including Missy Elliot) and Swizz Beatz (who hyped for Ruff Ryders and T.I). Even Jay Z started his career as a hype man.
Over the years, we've seen the emergence of hype men in the Nigerian music industry.
Special Ed was probably one of the first hype men to come out with of the development Nigerian contemporary pop and afrobeat music. Before the split of Mo'Hits records, the hype man also known as King Special was affiliated with the now defunct crew.
Currently he plays hype man for pop royalty Davido. Special Ed is also an artiste and according to his social media profiles, he's the head of corporate sponsorship for the 'Aye' crooners HKN imprint.
Radio presenter Do2tun started his hype career playing hype man in popular clubs in Lagos following this he played hype man at massive concerts like the Star Music Trek series. He also acts as a party starter for YBNL Nation rapper Olamide.
MTV Base Africa VJ Ehiz plays hype man to several artists. He sometimes collaborates with Jimmie.
Jimmie is one you can't help but notice he comes out with a deep voice roaring from his lanky figure. He is known for his signature opening line "Are you readddddyyy". You rarely see D'banj at performances without Jimmie warming up the stage for him.
Rapper AO also doubles as a hype man for fellow rapper Vector.
The next time you see that guy standing next to your favourite act yelling and asking you to scream, not get annoyed, he's only doing his job.
Watch Wizkid performing at Industry Nite in the Pulse TV video below:
JOIN OUR PULSE COMMUNITY!
Recommended articles
CBN tells Nigerians what to do as new notes scarcity bites harder
Meet Africa's Elsa Majimbo the youngest person on Forbes
Osun: Adeleke breaks silence, reveals next move after sack
How to make love: 5 difficult sex conversations couples should have
Naira Marley acquires 10th luxurious house in the heart of Lekki
Top 5 economies in Sub-Saharan Africa to watch out for in 2023, according to IMF
Nigeria, Cameroon and Zimbabwe lead the pack of African students studying overseas
Seyi Vibez's use of Quranic recitation splits opinions as some Muslims demand that he removes it
El-Rufai says some elements in Aso Villa want APC to lose 2023 election