7 Shocking things President-elect said during campaigns
Donald Trump ran a campaign of loose sound-bites. We recall some of his crazy moments.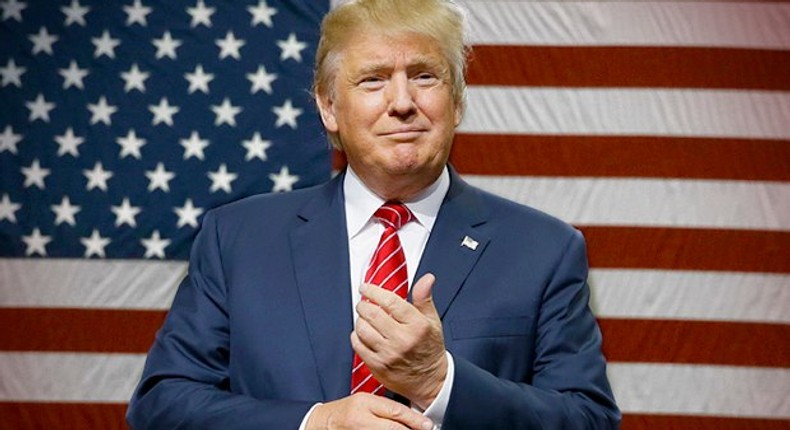 Donald Trump is the 45th President of the United States of America.
Trump who flagged off his campaign in June of 2015, was quite the unpredictable and eccentric character on the trail.
We look back at some of those Trump moments which left us all shaking our heads in disbelief.
1. Trump says he'll build a wall
Trump promised to build a wall so beautiful and big, Mexico will be so glad to pay for it.
"I will build a great wall -- and nobody builds walls better than me, believe me --and I'll build them very inexpensively. I will build a great, great wall on our southern border, and I will make Mexico pay for that wall. Mark my words."
Dear Mexico President, Enrique Peña Nieto, it's time to pull out the cheque book and underwrite the building of this wall.
2. Trump mocks John McCain
Trump mocked Republican Senator, John McCain, during the Family Leadership Summit in Ames, Iowa.
McCain is regarded as a hero in U.S circles.
McCain almost lost his life on the battlefields of Vietnam.
On a bombing mission over Hanoi, McCain's fighter jet was shot down, leaving the former U.S presidential candidate seriously injured.
McCain was thereafter captured by the North Vietnamese and was held as a Prisoner of War (PoW) until 1973.
Trump wasn't impressed with McCain's battleground exploits, unlike the rest of his country.
"He's not a war hero," Trump said of McCain, leaving the event moderator in shock. "He was a war hero because he was captured. I like people who weren't captured, okay?"
3. Trump describes Carly Fiorina as ugly
Trump insulted Carly Fiorina, one of his opponents during the race for his party's presidential ticket.
"Look at that face! Would anyone vote for that? Can you imagine that, the face of our next president?!"
Fiorina never quite recovered from 'The Donald's' acerbic tongue.
4. Trump lays into Fox TV host
Fox News anchor, Megyn Kelly, gave Trump a tough time during one of the GOP debates.
In an interview with CNN soon after the debate, Trump referenced menstruation as he sought his pound of flesh from Kelly.
"You could see there was blood coming out of her eyes. Blood coming out of her... wherever."
 5. Trump calls for a Muslim ban
During the campaigns, Trump put forward a plan for a ban on Muslim immigrants, until such a time when the U.S can "figure out what the hell is going on".
"We have to stop, on a temporary basis, at least but we have to stop people from pouring into our country. ……in particular for certain people coming from certain horrible -- where you have tremendous terrorism in the world, you know what those places are. But we have to put a stop to it. We have to put a stop to it, until such a time when we can figure out what the hell is going on! Because right now, we don't have a clue what's going on, folks. We don't have a clue."
6. Mexicans are rapists and drug dealers in Trump world
The Mexicans seem to annoy Trump.
Not only would he build a wall to shut them out, he called them out for being rapists and drug dealers.
"What can be simpler or more accurately stated? The Mexican Government is forcing their most unwanted people into the United States. They are, in many cases, criminals, drug dealers, rapists, etc," Trump said.
7. President-elect loves to grab women by the p**ssy
An old tape of Trump making lewd comments about women, surfaced as a most brutal election contest with Democrat Hillary Clinton, tapered off.
In that tape, Trump armed critics who still regard him as sexist and misogynistic.
"I moved on her like a bitch, but I couldn't get there. And she was married. I did try and fuck her. She was married. I just kiss. I don't even wait. And when you're a star, they let you do it. You can do anything. Grab them by the pussy.You can do anything."
The President-elect of the free world, Ladies and Gentlemen.
JOIN OUR PULSE COMMUNITY!
Recommended articles
Tinubu's biopic, Last Man Standing, to premiere June 12 in Lagos
Zamfara Governor addresses purported ₦9trn assets declaration
Tinubu promises minimum wage review as subsidy dispute rumbles on
Revert to status quo on subsidy, let's continue discussion - TUC tells FG
Nigerian women can now pass permanent residency to foreign husbands but not citizenship
Group hails Tinubu on Akume's appointment as SGF
Kano Gov orders land developers at Hajj Camp to stop immediately
Ondo CP presents ₦13.3m cheques to 27 late police officers' families
Italy committed to working with Nigeria's new leadership — Envoy