Dear Saraki, it's time to stop running
The charges against Saraki were made public in September 2015 and since then, the Senate President has been running from pillar to post to avoid a trial.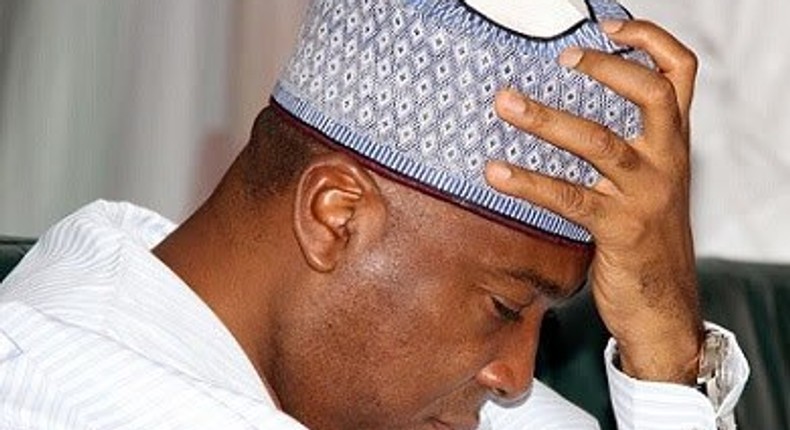 The charges against Saraki were made public in September 2015 and since then, the Senate President has been running from pillar to post to avoid a trial.
Saraki first of all refused to appear at the tribunal on two separate trial dates, September 18 and 21, despite the issuance of an order for his arrest.
In explaining his absence, the Senate President said via Twitter:
"My absence from the Tribunal today, was based on counsel received that the tribunal will respect the decision of the Federal High Court."
"CCT Chairman & members who only take official oath and not judicial oath are expected to respect the decision of the superior court," he added.
Saraki subsequently approached the Federal High Courts in Abuja and Lagos in a bid to stop his trial but both attempts failed.
The Senate President has repeatedly said that his trial is a form of political persecution launched on him by powerful people who are unhappy that he occupies the top legislative position.
"Meanwhile, I wish to reiterate my remarks before the Tribunal, that I have no iota of doubt that I am on trial today because I am the president of the Nigerian Senate, against the wishes of some powerful individuals outside this Chambers," he said on September 29, 2015.
"The charges have nothing to do with corruption or money being stolen anywhere and that is why at the end of the day, I will have my day in court. Because it is not about corruption," he said on February 26, 2016.
"I don't understand how the same organisation that cleared my asset declaration to be proper in 2004, 2009 and 2011 can suddenly wake up and say that my record is faulted," he added.
"Given that for 13 years, all the documents from the senate president's asset declarations from 2003, 2007 and 2011 were accessible by the Bureau for investigation. Saraki's application states that the condition precedence should have been drawn to it, to give the senate president the opportunity to explain and address any identified issues," the statement read.
"In this regard, as the trial begins, Nigerians should note that this outright non-observance of the rule of law, reaffirms the belief that this trial is borne from political mischief and malice associated with the timeliness and nature of this suit.
"As the head of Nigeria's legislative branch, Dr. Saraki is confident that justice will ultimately prevail and he is ready, willing and prepared to submit himself to all proceedings that adhere to the strict dictates of the law. He believes that the law must take its righteous course and reassures Nigerians of his commitment to serving the people of the Federal Republic of Nigeria," it added.
Despite Saraki's announced willingness and preparedness to face the law however, he still went ahead to file a last-ditch suit before Justice Abdul Kafarati of the Federal High Court after the Supreme Court had already given a final ruling on the matter.
It appears that Saraki doesn't realize that all these lofty justifications and attempts to avoid trial make him look as guilty as sin.
Saraki says he wasn't allowed to explain himself but isn't that what a trial is for? Why is he running helter skelter when no one has declared him guilty yet?
Also, the Senate President's habit of arriving at the CCT with an entourage of senators and lawyers just makes him look like a guilty person desperate to cover up his tracks.
Saraki needs to stop running about and just relax. He is still innocent until proven guilty so he should submit to the courts and allow justice take its course.
------------------------------------------------
See photos from Saraki's CCT trial in the gallery below:
JOIN OUR PULSE COMMUNITY!
Recommended articles
Why I am not allocating land in FCT – Minister
7 governors who have been sacked by Nigerian courts since 2012
What went wrong with BVAS in the Osun governorship election?
Jandor promises to convert Lagos 'Area Boys' into positive tools if elected
BREAKING: Court dismisses suit seeking Buhari's sack
NDLEA bursts trans-border cartel, arrests 5 kingpins, seizes skunk, meth in compressors
APC accuses PDP of planning campaign of calumny against it and Tinubu
We are winning the war against oil theft, says Brigade Commander
Gov Masari says Obasanjo can't influence his own family to vote for Obi