Breakdown of 2016 budget as presented by President
The budget is based on a crude oil benchmark price of $38 per barrel and a production estimate of 2.2 million barrels per day for 2016.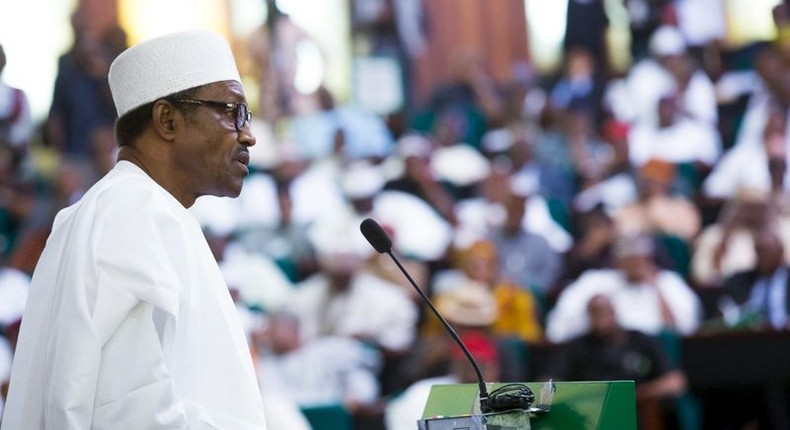 President Muhammadu Buhari had earlier today presented the 2016 budget to a joint session of the National Assembly.
It was gathered that deficit will be financed by a combination of domestic borrowing of N984 billion, and foreign borrowing of N900 billion totalling N1.84 trillion.
According to Channels TV, there is a proposed 9% reduction in non-debt recurrent expenditure, from N2.59 trillion in the 2015 Budget to N2.35 trillion in 2016.
The budgeted N300 billion for Special Intervention Programs, takes the total amount for non-debt recurrent expenditure to N2.65 trillion.
The Efficiency Unit set up by the current Administration, together with effective implementation of GIFMIS and IPPIS, will drive a reduction of overheads by at least 7%, personnel costs by 8% and other service wide votes by 19%.
JOIN OUR PULSE COMMUNITY!
Recommended articles
Troops bomb Boko Haram Commander, 27 others in Borno as bandits attack
2023: Nigeria's Presidency not about one religion – CAN
Our votes are against those who underrate Rivers state – Wike subs Atiku
Dariye, Nyame regain freedom, 4 months after Buhari's pardon
BREAKING: WAEC releases 2022 WASSCE results
You are a failure made by powerful politicians – Jandor replies Sanwo-Olu
El-Rufai and Atiku's spokesman in a mild political tweet-fight
Certificate Forgery Suit: APC to be served as Bola Tinubu remains unreachable
Court to hear 'certificate forgery' suit against Tinubu next month