Governor Ambode seals off construction site
Lagos state government has ordered the immediate sealing of the construction site and advised occupants, of other structures constructed by Lekki Gardens, to vacate.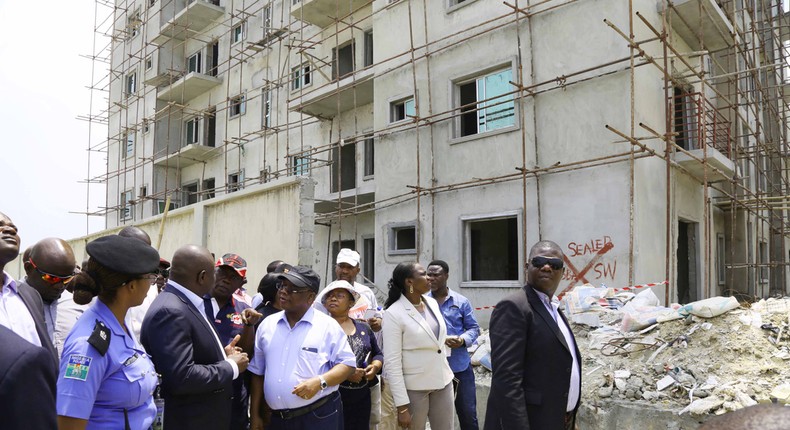 The governor of Lagos state,
During an inspection of the site, he revealed the government's plan to conduct stability tests on all buildings constructed by the Lekki Gardens because the recent incident was "one building collapse too many".
"The State Government will undertake a stability test on all other buildings constructed by the Developer in the State, whether occupied or not, to ascertain their structural stability. The Developer will pay the cost of the tests.  Any building found to be defective would be demolished. For those that pass the integrity test the developer will pay a penalty for any overdevelopment on the site," he said.
Wasiu Anifowose, the Commissioner for Physical Planning and Urban Development, advised occupants to vacant because of the stability test.
"In the best interest of the occupiers of the other structures, their lives are very important to us as a government and we are appealing to them to vacate the buildings immediately until investigations are completed.
The gentleman behind Lekki Gardens got approval for ground, first, second and third floors, but after doing the roofing, he removed it and added additional two floors which caused the building to collapse. So, we have to carry out integrity test on the other structures and the cost implication for present occupiers of the other structures to vacate the buildings would be borne by the developer," Anifowose said.
JOIN OUR PULSE COMMUNITY!
Recommended articles
TAFTA: Providing world-class creative education to thousands of Nigerian youth
How fragile border fuels terrorism, economic sabotage - Buhari
Omo-Agege will end farmers, herder clashes in Delta – APC Chieftain
PoS operators increase charges to 10% as Naira scarcity persists
FG to launch 24/7 citizen's desk for diaspora response - Minister
Buhari congratulates Arise News on 10th anniversary
NNPCL, Daewoo sign contract for quick repair of Kaduna Refinery
4 rescued as building collapses in Gwarinpa Estate
Court dissolves Ganduje's daughter 16-yr-old marriage, orders return of dowry